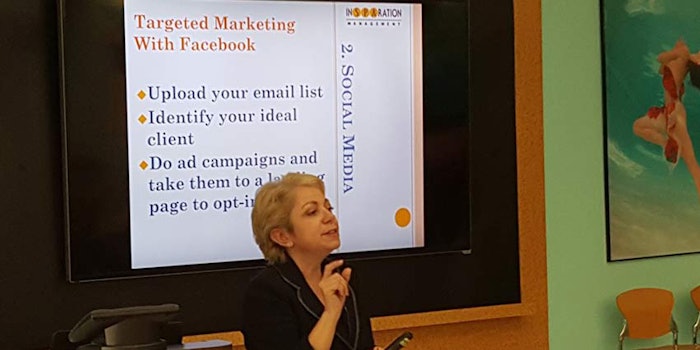 Driving traffic to your spa business is key, but an effective marketing plan to drive clients doesn't have to cost a lot of money.
At Repêchage's annual networking Champagne Power Lunch in Secaucus, New Jersey, on Dec. 7, 2015, Dori Soukup, president and CEO of InSPAration Management, discussed steps to take with your client database and how to put economical marketing strategies in place to drive more traffic.
Segment Your Database
"One big mistake I notice all the time from spa owners is the lack of segmentation in your database," says Soukup. 
Sending out one e-mail blast to an entire database isn't efficient if the database isn't segmented according to the different types of clients, she notes.
"Anytime someone opts into your list, you really need to know who they are, how old they are and whether they are a female or a male. That way when you create your marketing strategies and your marketing campaigns, you're talking directly to that individual," adds Soukup.
Achieve More Volume Per Guest
Soukup said the goal is to have more spa traffic and increase the volume per guest (VPG). For instance, she suggested that skin professionals should make it their goal to sell add-on services to facials and retail products to maximize revenue. 
"You can grow your business by 25%, 30% or more if you focus on volume per guest. We call it VPG, and when you focus on that, you can grow your business exponentially," says Soukup. 
Increase Frequency of Visits
Instead of clients coming back once a month, try to get clients to come back twice a month, says Soukup. "Or, convince them to purchase a membership with you," she adds. "That way they're coming back all the time. They're not just coming in for one facial every other month or a body treatment."
Spa owners need to how many people they need to market to every single day to determine how much money to invest in marketing to reach a certain capacity.
Soukup recommends to figure out what percentage of the spa is being operated at capacity, so owners can determining how many more clients need to walk in for them to increase the capacity.
"If you have 10 hours in a day that you're available and you're only doing five facials or five body treatments, then you're only operating at 50% capacity. You're loosing a lot of money. It's not that you're not making money, you're loosing money. So what we want to do is increase that capacity," says Soukup.  
Increase Spa Traffic Economically
1. Business cards. Take your business card and turn it into a promotional tool by featuring a "gift for you" on the back of the card such as a complimentary eye treatment, massage, etc.  
2. Social Media/Facebook. Take your e-mail list from your database and upload it to Facebook. Facebook will find all the people on Facebook that have the same e-mail address, and you can do an e-mail campaign for these people and get them to like you on your Facebook page. On Facebook, Soukup recommends finding people similar to your clients and market to them with an ad campaign.
"For pennies a click, you can do your own ads on Facebook, and you can set your own targets [$10 a day or $15 a day] and really work it," says Soukup. 
3. Website lead generation. Soukup says many spa websites are just like a brochure online and are not engaging. They need to generate leads. "You can do a 'register to win' a body treatment, eye lash extentions, etc. to gather information. Once they give you their information, then you can start building a relationship with them and get them to convert," says Soukup. 
4. Newsletters. Newsletters help SEO and you can gain visitors' opt-in information when they subscribe to your newsletter. Some topics she suggests are spa tips, the tip of the week, the tip of the month, health, wellness, or an expert column. "Tell the world your success stories," she says. Or offer web visitors a stress assessment or a skin care assessment. Video can also be added. Soukup says do a product review or something else to separate yourself from the crowd. "Google loves new content, and people can have a reason to come back to your website over and over," she adds. 
5. Cross-marketing. Refer your facial client to the massage therapist. Soukup says you could "double your business" if you take every client and cross-market other services to them. 
6. Events/gift cards. "You need to be making thousands of dollars from holiday events this year," says Soukup. Invite your clients to bring a referral with them, do demonstrations and give away prizes. "The easiest way to make money doing events is to sell gift cards. And you give free money that night. So let's say if they buy a $100 gift card, you're going to give them a free card for $20," says Soukup. "You just want to sell gift cards that night. You're not going to sell treatments that night because then it takes too much time."
For charities that you normally give a gift basket, Soukup says to instead give a gift card to every single person that comes to the event. Although you don't want to just give away the card, "we want to get them to go to a landing page on the spa website to redeem the gift card," Soukup says. "This is a way to gather customer information. It's so important to lead people from offline to online because the charity is not going to give [out] email addresses."
Since unearned revenue from a gift card is a current liability to a business on the balance sheet, Soukup recommends giving them an empty gift card. One they redeem it, input the amount in your business software system. You can use gift cards for referrals. "Gift cards are the best way to market your business and [are] so economical," Soukup adds.
7. YouTube Videos. "People can sell you a lot better than you can sell yourself. So, if somebody's happy with what you offer, then you need to have them definitely tell the world and then publish it," says Soukup. Get in front of the camera and start doing a product review or you can record a client testimonial or a step-by-step facial, notes Soukup.
You should also make a video tour of your spa, Soukup adds. "Because when it comes to me making a decision on which spa I'm going to visit, I'm going to visit the one that I can see what it looks like. Not just the one with the woman laying there with the stones on her back. Dare to be different," she adds. 
Be the Best of the Best
In conclusion, marketing and sales are so important to your growth, and if you don't focus on either of these things, you're always going to be average, says Soukup. "We want to be way above average. We want to be the best of the best," she concludes.