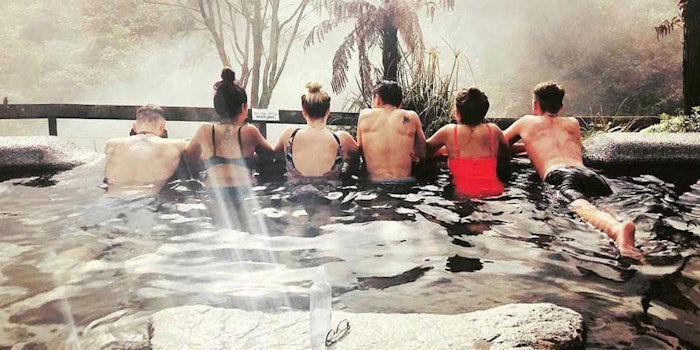 Globally, bathing culture changes from region to region, but it remains a social activity for many cultures to partake in. From onsens to hot springs, bathing rituals can easily become a practice that many take for granted. For this reason, the Global Wellness Institute (GWI) has started the Hot Springs Initiative to celebrate the world's water that we bathe in and to ideally create a world where bathing is possible for everyone. 
"It's crucial to remember that every generation benefits from hot springs—and worth noting that all five of the original Blue Zone Communities, places in the world where people live the longest, healthiest lives, feature hot springs in the community or very close by," said Charles Davidson, chairman of the GWI Hot Springs Initiative and founder of Peninsula Hot Springs in Australia. To draw attention to the initiative as well as World Bathing Day, which took place June 22, 2019, GWI named the top five hot spring trends worldwide for 2019. 
1. Multigenerational Features
Hot springs are starting to be designed for anyone who might want to enjoy its benefits. This means everyone from children to grandparents are being kept in mind when creating the environment, activities and accessibility of the hot springs. Hot springs are including everything from baby baths to hydro jets and water slides.
Clients can experience high energy or low impact and easy pools depending on what they're looking for in their environment. Facilities are also moving to include separate spaces that can feature tranquil, low-energy activities or noisy, high-level activities without comprising either experience.
2. Connecting the Community
Hot springs are connecting with the community where they are located to keep with their role as refuges for health, well-being and connection. Facilities can work on creating this connection by incorporating health and fitness programs with midweek entry prices for local visitors, or they can take part in community organizations and philanthropy as a social service. Overall, hot spring facilities are focusing more on physical and mental well-being of people in the community. 
3. Boosting Wellness Programs
Hot springs are expanding to include other wellness treatments and activities like massage, yoga, Pilates, forest bathing and hydrotherapy among others. This expansion of wellness activities is stretching the appeal of relaxation and escape to reach clients and consumers that are more heavily focused on total wellness and self care. This increased appeal in different wellness programs has created an interest in one-day holiday concepts that can include a VIP hot springs experience to give consumers an opportunity to enjoy the waters for longer while also boosting the facilities appeal and revenue. 
4. Connecting to Nature
Research has shown that there is a connection between nature and mental and spiritual health, which hot springs stem directly from in a sense. The hot springs themselves come directly form the earth and they are filled with natural, health-enhancing minerals, and their natural warmth makes them enjoyable all year long. Hot spring designs are shifting their focus on providing both and esthetic and physical connection to the environment and nature.
5. Extreme Bathing = Extreme Wellness
When people push their bodies to the extreme, it stimulates the body's self-healing mechanisms, so natural hot springs are creating this same physical response through extreme bathing. Hot springs are becoming the hosts to extreme wellness retreats and adventures that can feature going from the comfort of a natural hot pool to bating in snow covered mountain streams. Some hot springs have combined extreme hot and cold bathing with talks on nutrition and other wellness activities like yoga, meditation and massage.