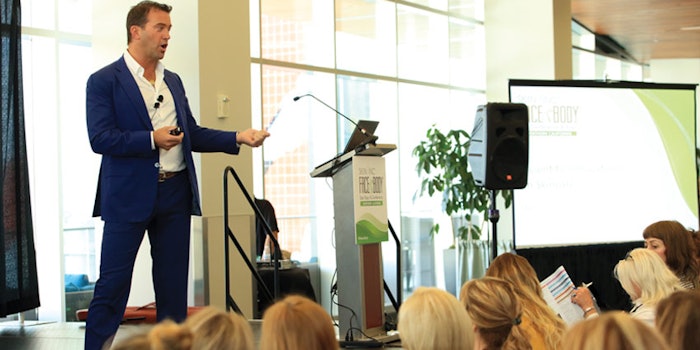 Customization is trending not only in skin care and spa, but also in nearly every other industry. People want things the way they want it, and education is no different. Skin Inc.'s Face & Body Northern California, to be held on August 26-27, 2018, in San Jose, California, offers attendees a variety of education. In fact, more education will be offered than ever before, and with the advent of spa pods, attendees can customize their education schedule to go to what fits their needs best.
Will you find your way to San Jose? Here are four education opportunities you won't want to miss during the two-day event.
1. Advanced Education (Now On Expo Days!)
If you've ever wanted to attend Advanced Education, but were unable to take the extra day off, 2018 is your year to go. Not only have we moved Advanced Education to the exposition days, but we have debuted customizeable spa pods. Each pod contains two classes under a theme, including: massage, retail, biology, hair removal, marketing, chemistry, wellness and medspa. Attendees can purchase as little as one pod or as many as four pods based on your educational needs. Industry expert presentations include: Your Retail Survivial Guide by Annet King (Elemis); Acne Is Personal by Robert Manzo (Skinprint); Waxing: Myths, Tips and a Little Humor by Stephanie Laynes (Smooth Skin Supply); Operation Protection by Erin Madigan-Fleck, N.M.D. (Naturophoria); Understanding and Rejuvenating the Face Like a Plastic Surgeon by Alan Durkin, M.D.; and much much more.
2.Supplier Classes
Free with Face & Body Northern California registration, supplier classes offer attendees the opportunity to learn about the latest products and technologies from the leading suppliers in the spa industry. These brief sessions will showcase supplier innovations in action and will allow attendees to ask questions about the products in an intimate setting. Topics range from anti-acne and chemical peels to refreshing a spa menu.
3. CIDESCO USA Workshops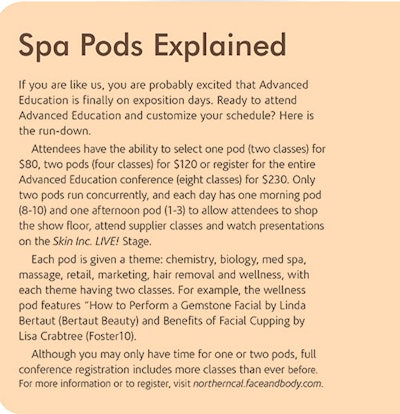 Face & Body Northern California attendees can partake in three workshops hosted by CIDESCO USA: "Crafting a Signature Facial Experience for Different Skin Types", "European Facial Massage Techniques" and "Rosacea and Redness Management." These workshops will be led by world-renown CIDESCO trainers. CIDESCO is a worldwide body promoting beauty therapy—esthetics and cosmetology.
4. Skin Inc. LIVE!
The Skin Inc. LIVE! Stage is where you can go to see entertaining presentations on both days of the exposition. Make sure you attend the Anniversary Power Panel: What Does Green Really Mean on Aug. 26, 2018. Other sessions will include mindfulness, getting clients, lava shell massage, holistic hair removal and more.