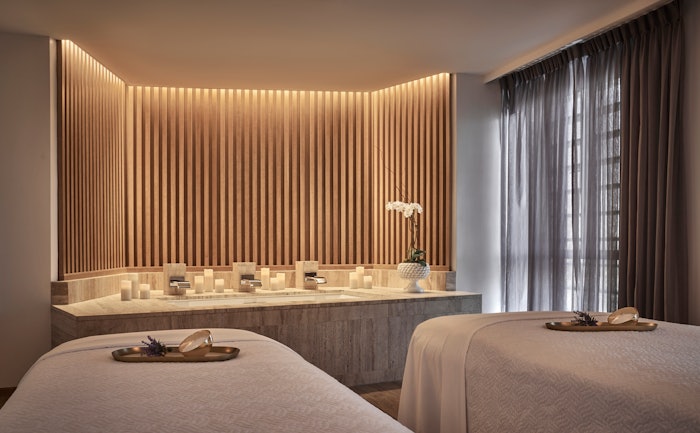 The Spa at Four Seasons: New Orleans, Louisiana
The Spa at Four Seasons' Interior Deisgner, Bill Rooney, sat down with Skin Inc. to discuss designing a spa interior that reflects the city's iconic features into a calming space for clients.
1. Tell us about the aesthetic of your spa's interior and the emotion you are looking to evoke from customers?
Thoughtfully curated, The Spa at Four Seasons Hotel New Orleans invites guests to escape the buzz of the Crescent City and indulge in our celebratory heaven. We have created a space for guests to restore balance, elevate their mood, energize themselves or simply wind down with a pampering experience. Our goal is to have guests looking and feeling their best to enjoy all the adventures that await.
2. What inspired your design components and process?
Our spa's interior and offerings are inspired by the allure of the bon vivant lifestyle, while drawing inspiration from New Orleans itself, providing guests with hints of excess within a comforting setting. We pulled in elements such as raw, white oak shutters, gray travertine, and wrought iron silhouette-projecting lamps to reflect the city's iconic features into our calming space.
3. What is the most important thing to remember when designing a successful spa space?
Set against the vibrant city of New Orleans, we set out to create a space where guests can relax, indulge in themselves and feel rejuvenated for what lay ahead. To do that, we incorporated offerings that entice them to exhale, such as our relaxation lounge, steam rooms and cool mist experience.
4. Does your spa have any unique features or design aspects?
The Spa at Four Seasons Hotel New Orleans is embellished with unique artwork created by Nicole Charbonnet and Allison Janae Hamilton. Charbonnet's pieces incorporate a certain complexity, while Hamilton's creates an immersive space guided by nature. Together they offer our guests an introduction to the city's art scene in a setting that welcomes and indulges all of the senses. Additionally, The Spa features an outdoor deck for guests to relax with a glass of champagne après treatment and enjoy the view of the Mississippi River.
5. What advice would you give to someone who is designing their
spa's interior?
Work hand-in-hand with the greater hotel team to deliver a space that speaks to guests. Whether it's beauty-focused or wellness-centric, there is a niche for everyone, and you want to ensure you are creating a tailored and on-brand experience.