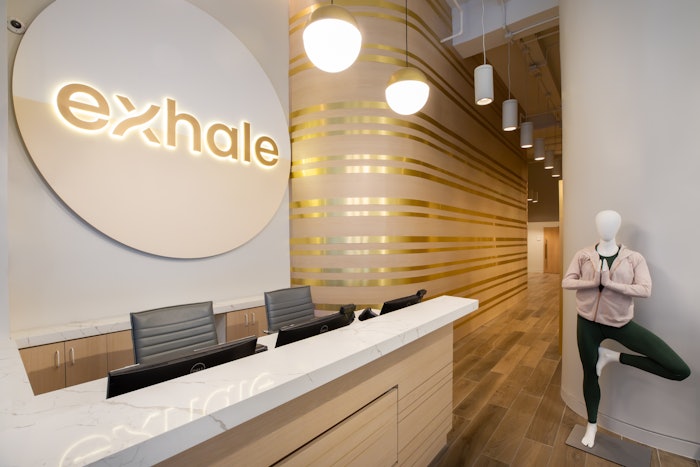 Exhale Spa NoMad: New York City, NY
Exhale Spa NoMad's CEO, Marie O'Connor, sat down with Skin Inc. to discuss designing a space that provides a total wellness experience for guests.
1. Tell us about the aesthetic of your spa's interior and the emotion you are looking to evoke from customers?
Although the look of our new exhale spa NoMad location is similar to our newer exhale locations around the country, there are elevated elements in its design. To maximize the space, we utilized every square inch of the facility and created an open, intriguing and relaxing environment. We want guests to enter and feel excited to explore what is behind each door.
2. What inspired your design components and process?
Our NoMad spa has been designed to feel warm and inviting while maintaining a clean, sleek and modern look. Enter through the front door and you can scroll through our menu on our large digital touchscreen, or engage with one of our wellness consultants at the front desk who are knowledgeable about all services offered. The changing rooms are contemporary with high-tech lockers and beautiful vanities stocked with all the essentials guests may need.
3. What is the most important thing to remember when designing a successful spa space?
When designing a successful spa space, it is important to focus on the guest experience. Our goal was to cultivate a space where guests can receive a total wellbeing experience, such as enjoying a traditional Swedish-based massage in one of our luxurious spa rooms, or trying something new, such as stepping into one of the infrared saunas with salt therapy.
4. Does your spa have any unique features or design aspects?
The exhale NoMad location has many unique features that focus on innovative experiences and the future of wellness. For example, when we originally opened up this location in November 2019, we had a fitness studio. Earlier this year, we transformed that space into what is now our "Recovery Room." You can take a seat and receive an IV drip or strap on some compression boots while soaking in the ethereal ambiance.
5. What advice would you give to someone who is designing their spa's interior?
The most important piece of advice for someone who is designing a spa interior is to always remember that the space must be comfortable for the guest. From the minute they walk in, to the moment they check out, the design must be connected with the services being provided. We curated our space in this specific way so when our guests walk in they feel zen and relaxed up until the moment they walk out of our spa.