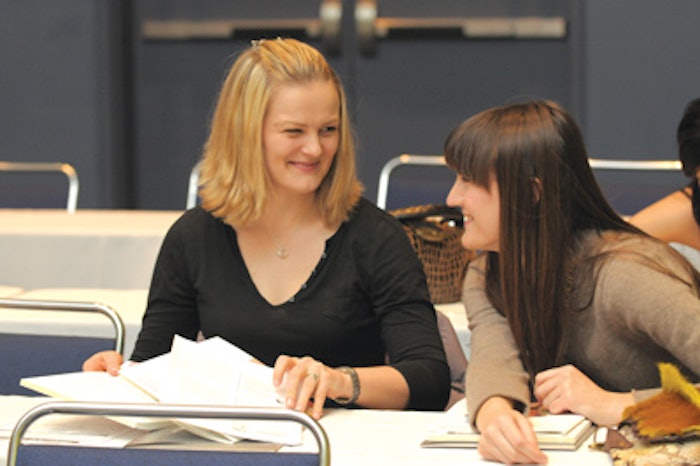 In just a few short weeks, America's Expo for Skin Care & Spa (AESCS)(R) will bring its exciting and dynamic program to McCormick Place Convention Center in Chicago on March 28-30, 2009. This year's show will again be co-located with America's Beauty Show (ABS), bringing you even more educational value for your dollar. This event offers you access to more than 500 exhibitors, 150 of which deal exclusively with spa, and you will have the opportunity to mingle and network with more than 3,000 of your industry peers.
The Advanced Education Program at this year's America's Expo for Skin Care & Spa has been structured to give you more time to focus on education, yet still allow you plenty of time to visit the expo, network and attend Manufacturer Classes. In addition, the tracks have been reformulated based on attendee feedback.
Salon/Spa Sustainability Summit
This year's program will kick off on an environmental note with the captivating Salon/Spa Sustainability Summit: Triple Bottom Line—People, Planet and Profit. If you want to go green in your salon, spa or personal life but are not sure exactly what to do, plan now to attend the beauty industry's original summit.
The summit takes place on Saturday, March 28. The show defines true sustainability as:
Continued economic development to sustain businesses;
Social progress to support and protect communities; and
Active and involved concern for the environment.
The summit will include panel discussions on each of the three branches of the sustainability platform, as well as eco-friendly exhibits and information specifically for salon and spa owners and professionals. The concept of a Salon/Spa Sustainability Summit debuted last year at America's Beauty Show.
Advanced Education Conference Program
The America's Expo conference program will continue on Sunday, March 29, with its product-neutral Advanced Education Conference Program. This year's six reformulated tracks include Business-building, Esthetic Chemistry, Esthetic Science, Technique, Medical Trends and Wellness/Sustainability.
Business-building. Business, marketing, promotional and fast-track-to-success topics.
Excellent Customer Service and How to Deliver It
Tammy Pahel, Spa Management Solutions, and Angee Smithee-Senior, Lakeshore Athletic Clubs
Personalized e-Marketing Solutions for Spa Professionals
Rene Brookbank, SignatureB Communications
Beat the Economy–Low Cost Solutions That Make Money
Bryan Durocher, Durocher Enterprises
Esthetic Chemistry. Practical chemistry for today's skin care professional.
From the Lab to the Spa—What Ingredients Mean to You and Your Clients
Georgia Sturges, DDF Skincare
Are You Prepared to Manage Your Clients' Rosacea?
Christine Heathman, Advanced Aesthetics, Inc./GlyMed Plus
Esthetic Science. Serious science for the serious skin care professional.
The Real Skinny on Skin and Aging
Peter T. Pugliese, MD, Circadia by Dr. Pugliese
Safely Treating Hyperpigmentation
Noel Aguilar, PhD, DNA Health Institute
Technique. Services and treatments that will add to your bottom line.
Uncork Your Success: Maximize Your Skin Care Business
Lydia Sarfarti, Repêchage
The Wellness Massage
Pat Lam, Skin Care Consultants
Mystical Forces: Indigenous Ayurvedic Remedies
Carina Chatlanti, Body Bistro
Medical Trends. The latest trends in the medical spa arena.
Advanced Esthetic Devices and Practices—The Line Between Medicine and Beauty
Kevin Heupel, Specialized Continuing Education Consultants, Inc.
Business-building Techniques for the Esthetician in a Medical Practice
Steven Dayan, MD, and Terri Wojak, True University
Wellness/Sustainability. Sessions on nutrition, supplements, being green and other wellness initiatives.
Beauty and the Plant—Therapeutic Use of Botanicals in Skin Care
Jimm Harrison, Jimm Harrison Phytotherapy Institute
Pleasure Healing: Mindful Practices and Sacred Spa Rituals for Self-nurturing
Mary Beth Janssen, The Janssen Source, Inc.
How to Think and Act Like an Eco-preneur
Frederic Holzberger, Aveda Fredric's Institutes
Workshops
New this year, America's Expo for Skin Care & Spa is pleased to offer four intense, three-hour workshops providing extensive information on physiology, makeup, and ingredients. These will be held on Monday, March 30. (Additional fee required.) Workshop topics and leaders include:
Looking at Your Esthetic Business "Under the Microscope"
Georgia Sturges, DDF Skincare
Cosmetic Chemistry Workshop
Peter T. Pugliese, MD, Circadia by Dr. Pugliese
Backstage Beauty
Cheryl Gushue, Cheryl Gushue Makeup
Facial Massage Movements
Pat Lam, Skin Care Consultants
Manufacturer Classes
Industry suppliers will sponsor Manufacturer Classes Saturday, March 28, through Monday, March 30. At these classes, you'll learn about new treatments, procedures and products.
Mark your calendar
Since 2003, America's Expo has drawn thousands of practicing estheticians and salon and spa owners from the entire Midwest, as well as from around the country. America's Expo for Skin Care & Spa is coproduced by Skin Inc. magazine and the American Association of Esthetics. We know this will be the beauty event of the decade as we expand not only the exhibit area and esthetic education, but are also able to offer attendees all the amenities of downtown Chicago.
The view the complete America's Expo program online, visit www.AmericasExpo.com. It's an event you won't want to miss!