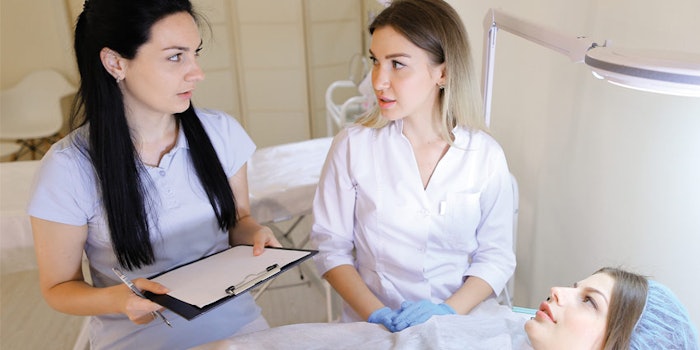 Last week, I was on the clinic floor with my students and made some interesting discoveries that I wanted to share with you in this month's article. Here are #10things I learned from my future professionals that will help you train and better understand your team.
1. State your expectations
Learners must understand the goal or expectation to perform to your standards. They can only meet expectations if they know how their performance is being judged.
2.Train hands-on
Skin care therapists are hands-on learners. A demonstration is nice, but they need to go hands-on right away to retain the information. Ideally, training is hands-on while the demonstration is happening.
3. Repeat
Repeat the information at least three times, three different ways. Our brains will retain what is repeated. For example, send an email, post the information in the lunch room and announce the information in a spa meeting.
4. Skin type vs. skin condition
The best thing we can do as estheticians is understand type versus condition. Nothing else matters if we are not properly analyzing the skin. This takes time and practice. Make sure your skin therapists understand this before they learn advanced treatments.
5. Ask for research
Ask learners to research and find the answers to their questions. If you help them learn how to find the information and show them their resources, you're educating them on how to problem solve.
6. Ask what they think
New learners ask, "Is this a good client for high frequency." You say, "What do you think?" New learners say "yes." You say, you're right, now tell me why." They usually have the right answer, they just need help being guided. If the answer is wrong, you can better understand where their questions are and help them understand the information.
7. Use checklists
Always follow opening and closing checklists. Model the process for your team.
8. Use technology
You might not think about having the iPad set up in the treatment room or filming a training video. Go for it! Having a positive relationship with technology can help new learners.
9. Know products
Product knowledge takes time to learn. Make flash cards, create mock treatment plans and learn through consultations. Find key ingredients and talk about it often.
10. Reflect
End the day by reflecting on what you learned and what was great. Learning a new skill, product line or treatment can be exhausting. Taking the time to share what you learned with a learning partner encourages positive feelings about learning and also solidifies the information in the brain.