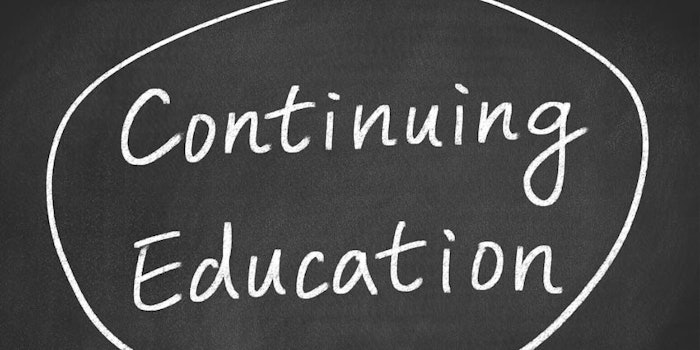 Estheticians who consider themselves a professional in this field are usually education sponges. They love to learn, they are always hungry for new treatment techniques and products, and they love an advanced peek into the future of skin care. Education requires an investment into your personal and professional growth, and this should be considered an obligation for maintaining your career status.
So often we are asked how much of what we learn in the classes can transform into increased clients and income. Ask yourself if it is knowledge you seek or you truly measure the net benefit of a day in class in terms of dollars earned. Although money is the foundation of all careers, not all continuing education will result in extra money. This article will present nine reasons you should continue to expand your education, followed by a few types of continuing education to consider.
1. Get More Qualified
Spa owners/directors are always looking for the most qualified candidate, so be that person that they are looking for by having additional training and certificates. If your current position is holding you back, having additional certificates will separate you from others. This should equate to better pay.
2. Make More Money
Although the average salary for a new esthetician may not be high, this can be improved initially with greater product and service sales. The better you connect with and educate your clients, the more they will purchase products and services. Therefore, the outcome should support you by helping you to command your worth.
3. Demonstrate Success
Spa owners/directors are expecting more from estheticians with respect to skill, complexity and specialization. What can you bring to the table besides the fundamental esthetic education you learned in school?
4. A Competitive Edge
Competition continues to increase, so experience combined with education will demonstrate your motivation and drive to succeed. Show both employers and potential clientele that you are driven to excel above the rest.
5. Job Security
Estheticians who continue to increase their levels of education tend to have better job security, and any credential you earn stays with you for life. However, you must utilize the knowledge to keep on top of the skill set gained.
6. Gain Confidence
Additional training and education can give you more confidence in your job, and clientele and employers are always looking for confident people.
7. Find A Mentor
Along your road to higher education, you may meet a potential career mentor. This person can help guide you in the beginning of your career and even assist you further down your path.
8. Expand Your Network
Attending continuing education trainings can help provide you with a network of like-minded professionals, whether online or in person. Take advantage of industry advocacy organizations by participating in their events, as this will also help advance your career.
9. Improve Your Discipline
Estheticians with higher levels of education are more focused and get things done. This is what spa owners/directors are looking for.
Business Education
Estheticians are often told that they will be profitable and successful; however, many get discouraged and quit when this does not happen. Estheticians are often skilled at what he/she does from a service perspective, but the area where they are lacking skills is in customer service, sales and marketing.
Customer service. Great customer service in our world is knowing what makes your clients feel important, respected, cared for and genuinely appreciated. Do you always treat customers in accordance with how you would want to be treated as a customer yourself?
Sales. Many estheticians cringe at the thought of sales because their focus is more service oriented. Selling is making something even more attractive through the presentation of it, whether using a verbal or printed description, by sampling, or even by the smell. An example would be for the person who loves the sea and who may find a spa that offers marine-based services and/or products. This person may like to be transported back to the sea, as this triggers a good memory and may enhance their relaxation. The sales aspect would be letting the clients know the skin benefits of algae, so they can purchase a product and continue the experience at home. Think about something that gives you joy by enveloping all your senses; can you emulate this for your spa clients?
Marketing. Marketing yourself is another component needed to build your business. How can you maximize your self-promotion potential? If you're planning to go down the advertising route, are you going to wait for the phone to ring, or are you going to attend meetings and events where you can talk to others about what you do? How often in a day, week or month do you actually initiate a conversation about what you do? How often do you seek out new potential connections and create and work on co-promotional relationships with people that can help you find customers—ones that need a certain customer of their own that they might find through you?
Specialized Education
There are many options when it comes to specialties in continuing education. Of course, specialties are not required for your license, but they offer clientele something unique and can help qualify you for a better job. A few of the specialty continuing education programs are discussed below but there are many more.
Mental wellness. It is commonplace in today's society for clientele to have emotional or mental issues. These issues can affect their skin and overall health. Offer clients a unique added benefit to esthetic treatments by learning how to improve emotional and mental health with aromatherapy and Bach flower essences.
Oncology Esthetics. Almost everyone in the U.S. and around the world personally knows someone who has battled cancer. It is a common disease, and estheticians trained in oncology esthetics will not only have a leg up on competition, but they will also avoid complications arising from improperly treating someone with or recovering from cancer. In this training, learn about treatment for the disease, its side effects and how to modify esthetic services for the client.
DermoTaping. DermoTaping is a specialized practice, wherein estheticians are taught how to use tape to work with scars as well as skin related issues such as acne, fine lines and stretch marks.
State Requirements
As our industry continues to grow, there will be changes. Some services are conflicted by the fine line between medical professionals and spa professionals. It is important for us to continue to keep a clear focus on working within the scope of our license (or certification). Sadly, continuing education is only required in eight states. We should see continuing education as staying current with the latest skills and new technologies required for their fields or as a reminder of things forgotten that need to be applied.