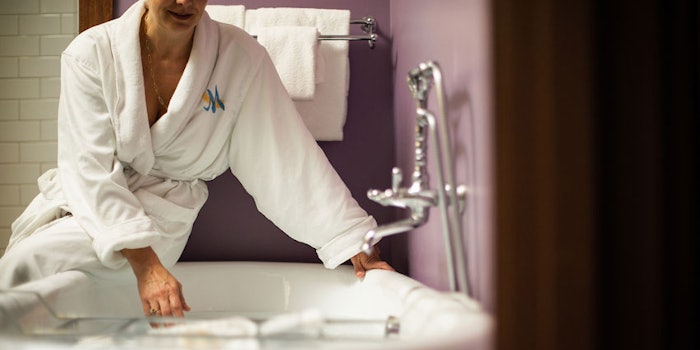 Spa Mirbeau provides its guests with a bath butler service that can bring the luxury of a spa treatment into the client's room. The Bath Butler Service ($52) includes a "bath butler" that takes the client on a scent journey in the comfort of their own hotel room. Once the client's favorite scent is determined, a shower, hand wash and bath salt in that scent will be provided the client's room. Additional bath items are also available including a body oil and shea butter lotion that the client will be able to take home with them as well. Skin Inc. asked Catherine Dower Sinclair, VP of spa operations for Spa Mirbeau, more about the service to better understand it and its success with clients. 
Skin Inc. (SI): Why did Spa Mirbeau decide to start using bath butlers?
Catherine Dower Sinclair (CDS): We were searching for a way to both enhance our guest's stay with us as well as increase our retail revenue with a unique experience.
SI: What are the benefits of having bath butlers?
CDS: Bath butlers provide the added luxury of having the experts take care of all the details. A bath butler comes to your room at the requested time, usually when guests are just finishing their dinner. They draw the bath using luxury spa products with aromas that have been preselected. The guest receives two chilled aromatherapy washcloths to use and the rest of the product is given to them so that they may continue their spa experience at home.
SI: How do you market this service to your clients?
CDS: We market this service in a few ways. It is listed on our website under our rooms department as an added enhancement to their overnight stay. When guests book their stay with us, they are then prompted to an enhancement menu that includes the bath butler service. We also have a well-designed sign that is framed and sits on the bathroom vanity describing the service in each guest room. We advertise the service in our retail store next to the products that are used for the service as well.