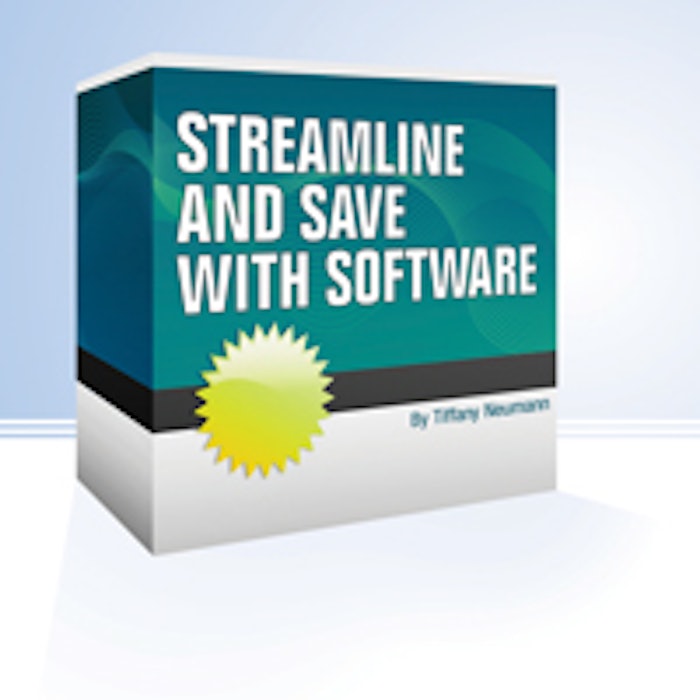 Finances have been extremely tight for many spas and medical esthetic practices during the past few years; there is only so much cutting back businesses can do to successfully and profitably operate. Instead of making cuts here and there, it may be time to find a cost-effective strategy that will have owners, managers and spa professionals jumping for joy. With today's technological advances, software systems can provide you and your clients with the right tools for the right price.
Switch to software?
Many spa owners may wonder how utilizing a software system will help them become more successful. Software systems help owners and their team members save tremendous amounts of time, and allow them to run more efficient businesses. See Spa Software's Top Features. By taking online appointments, calculating payroll, keeping track of inventory, storing clients' personal information and much more, spa professionals have a greater amount of time to focus on their clients, ensuring satisfaction and return visits.
"It's quick! Just click! That's our motto at Parisian Spa," notes Linda Fontenot, owner of Parisian Spa in Jacksonville, Florida. "Having a spa software program has helped us stay organized. Our inventory has recently grown with our new retail products, and the spa software automatically alerts us when inventory is low. As the owner, this is extremely cost-effective because I know what retail products are popular, and I know when to reorder. Plus, the software system helps us keep track of gift cards. Our clients also love it, especially if they lost the original card, because the system keeps a record of all of their information."
Organization. As important as clients are, many other elements go into profitably running a spa, some of which can be more costly than others. When paperwork is organized, filed and managed by different team members who all use different methods, things can—and do—get lost in the mix, often resulting in errors. By introducing a software system, owners become better equipped to run a more organized service and retail business. A more prepared and structured business has the foresight to identify areas where money, time and inventory can be organized, evaluated and structured to provide a positive overall outcome.
Finances. Many software systems contain features that help with payroll, commission and hourly wages. The old days of manually punching numbers into a calculator are over. There is no need to re-do or re-check numbers and statements, and these special features also help with tax deductions while calculating employees' hourly wages and overtime payments. Spa software performs all the calculations, and can save a valuable amount of time for busy owners, while ensuring much higher accuracy.
Service history. Combining customized facial treatment formulas and spa services incorrectly can be costly mistakes. Software systems have just the feature to keep those mistakes to a minimum, allowing for the storage of each client's complete skin care and spa service history.
Retail sales. To help increase skin care retail sales, software systems can store a record of retail products that have been recommended to clients. This feature saves time and ensures accuracy, while helping create additional revenue by making it easy to ask clients whether they need to purchase a new bottle of product they bought in the past.
Credit cards. Most software is programmed to work with additional modules, allowing for the ability to perform credit card transactions, control gift card packages and scan inventory. By purchasing the proper equipment, credit cards are easily swiped and automatically read on your screen, and the money is directly deposited into your bank account. It can be a lifesaver at the end of the day when money needs to be counted and all transactions are clearly visible with a few clicks of the mouse.
Inventory. Inventory add-ons allow managers and owners to control, audit and monitor sales, and a complete product list can be printed to show which items need to be ordered. Having special reports, such as count sheets, price lists, product labels, re-order transactions, reporting and valuation all stored together keeps product production successfully rolling without much work. By simply scanning items, there is no need to walk to the back room to check inventory; a definite time-saver.
Do your research
"Take your time to research what is available to you today," recommends Mark Jackson, president of Salon Iris software. "Although many specialized spa software programs offer the same features and add-on modules, research and development for these programs will vary with each software company. A key objective should be to find a software company that focuses on the importance of updates and education; analyze how and why it creates updates."
Cost-effective spa business strategies can be identified in many software programs. Look for a convenient introductory free trial that is available online or on CD, and don't hesitate to try a few different options; one may work better than another for your spa's specific needs.
To identify companies that offer spa software, access the always-updated www.SkinInc.com/buyersguide and select "Spa Product Manufacturers," "Spa Accessories and Business Tools" and "Software."