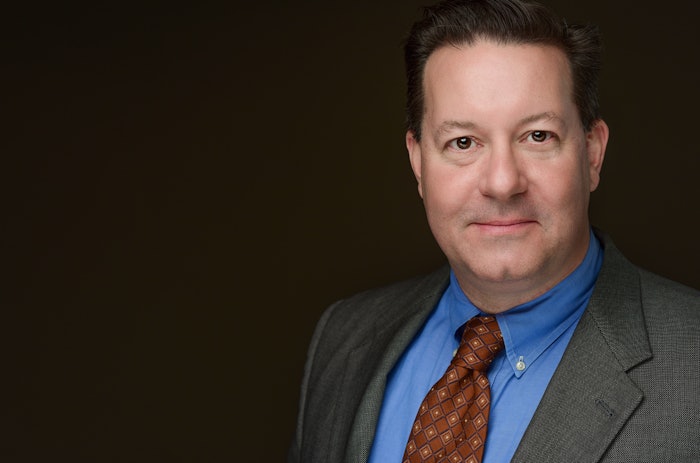 Photo Courtesy of ISPA
The International SPA Association (ISPA) has announced that Michael G. Tompkins, managing director and executive recruiter at Hutchinson Consulting: An Arch Amenities Group company, is the recipient of the 2024 ISPA Visionary Award. Tompkins will accept the award at the 32nd annual ISPA Conference, which will be held at the Phoenix Convention Center from April 23 to 25, 2024. 
The ISPA Visionary Award is presented each year to someone in the spa industry who has made significant contributions to both the definition and positive movement of health and wellness over the lifetime of their career.
Related: Celluma Vice President Denise Ryan Nominated for 2023 Women in Business Award
Tompkins has led teams to success in a career spanning more than two decades and encompassing several industries, including health care, hospitality and spa and wellness. In his current role, Tompkins and his team at Arch recently launched Wage Insights, a proprietary survey and salary benchmarking tool.
Prior to his work with Hutchinson Consulting, Tompkins held leadership roles with highly acclaimed spas and wellness brands including Canyon Ranch, Turning Stone Resort, Skana Spa, Miraval Resorts (where he served as CEO), PALM Health and Hilton Head Health's rebranded Indigo Spa.
Tompkins also helped conceive the philanthropic nonprofit art event St.ART in St. Louis in 2018. The collection, valued at more than $1 million, was later donated by Tompkins to a St. Louis inner-city non-profit aiming to bridge socio-economic gaps in the region.
"It's been a thrill to work with the best, most qualified talent in the industry to build engaged teams and fortify careers," Tompkins said. "I am deeply honored and humbled to receive this award from my esteemed colleagues. Throughout my career in hospitality, ISPA has remained a constant source of inspiration and support."
Lynne McNees, president of ISPA, said, "Michael is the true model of a visionary leader.His skills as a strategist and his dedication to building consensus and creating partnerships have been the core of his service to the spa industry. ISPA looks to Michael as a mentor, and we are so pleased to honor him for his far-sighted and inspired leadership."