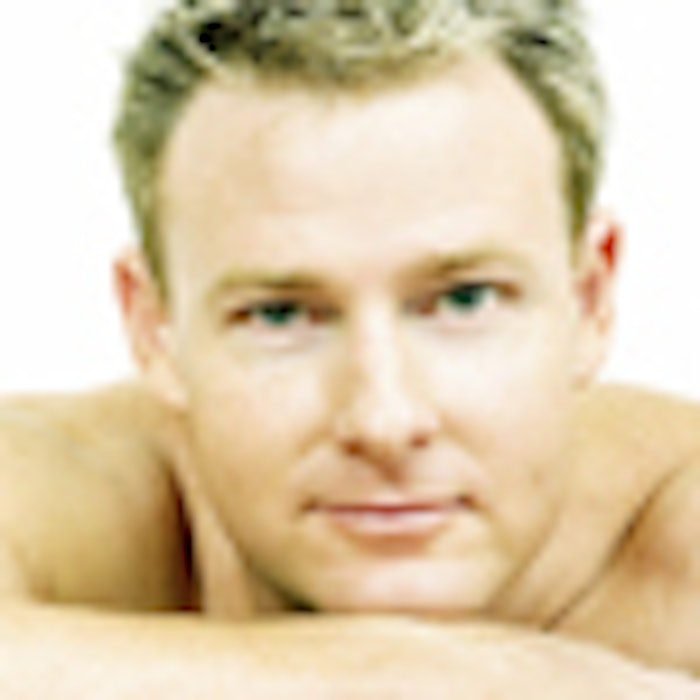 NOTE: Only on www.SkinInc.com: Exclusive commentary by Adam Schaffner, MD, director of plastic surgery at JUVA Skin & Laser Center in Manhattan, follows this news item explaining exclusively to www.SkinInc.com how to work with and market to male medical spa and cosmetic surgery clients.
The New Year ushers in a desire to look and feel our best. Those in search of their own fountain of youth turn to cosmetic procedures to plump, nip and tuck away the years. But although most assume women make up the patient roster for cosmetic procedures, men have found ways to improve their self-image as well. They are just keeping it a secret.
On any given day, if you look in the reception area of JUVA Skin & Laser Center in Manhattan, you will notice just as many male patients as female. Adam Schaffner, MD, director of plastic surgery at JUVA, says men are turning to him for ways they can look and feel like a better man.
Whether it is for personal fulfillment or to enhance a professional image, popular facial procedures include enhancing jaw lines to project a strong impression, injecting Botox and fillers to eliminate the look of fatigue, trimming extra skin and softening wrinkles around the eyes, and fixing nasal imperfections such as bumps, ridges and a bulbous tip.
Making alterations to a man's body has become increasingly more popular in the past decade as advances in laser and cosmetic procedures have made them easier and more accessible. Whether treating "man boobs," known as gynecomastia, love handles or a lack of definition, liposuction can help reshape areas to improve contour. Lipoetching accentuates the pectoral, abdominal and oblique muscles. Finally, laser-assisted liposuction helps tighten skin and reduce the amount of bruising and swelling associated with other liposuction techniques. "There is a misconception that cosmetic procedures are geared towards preserving a woman's youth and that men don't have similar insecurities about their face or body," said Schaffner. "Men discreetly and quickly undergo minimally invasive procedures that help achieve their desired image."
Exclusive commentary from Adam Schaffner, MD, director of plastic surgery at JUVA Skin & Laser Center in Manhattan, explaining how to work with the male medical spa client.
"Although men, in general, prefer to keep their aesthetic treatments more confidential than their female counterparts, there is a trend toward being more open to public disclosure given the widespread acceptance of aesthetic procedures in the general population.
"I think it is important to clearly define the needs of the population of patients that are being seen in that area. Whether it is developing a skin, hair or nail care regimen, addressing hair loss and signs of facial aging, "man boobs," or an expanding waistline, presenting treatments that are effective, economical, have minimal downtime, are safe and are long-lasting are qualities that men will look for when considering medical spa or cosmetic surgery treatments.
"To effectively market your medical esthetics practice to men, I recommend having a website that is easy to navigate, and features before-and-after photos and testimonials, where permitted by law. Make sure the website is optimized using search engine optimization (SEO) so it can be easily found when men enter search terms. The Internet is a way in which men may confidentially learn more about the issues that concern them. In certain areas, it may be beneficial to advertise in local print media, especially local magazines, such as New York Magazine.
"When working with men, facilities should have the ability to communicate with their clientele electronically. Some male clients may want to contact the medical spa or physician's office while at work but are afraid someone may overhear the conversation. By communicating via their personal mobile devices, they avoid this potential violation of their privacy.
"Upon arriving at the facility, minimize the amount of time the male client sits in the reception area. Often, men feel uncomfortable waiting in the public area of the office for fear they may see someone they know—especially the spouse of a colleague or friend.
"When initially meeting with male clients, let them know that esthetic procedures among men are becoming more popular each year. Show them before-and-after photos of male clients who have had the procedures in which they are interested. Place them in contact with other male clients who you have treated for the same issues. Of course, be sure to obtain permission from each patient in advance of making such introductions."