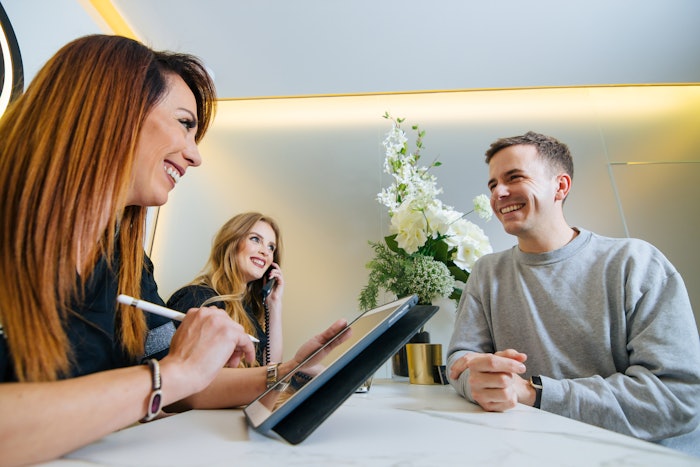 Dreamstime
Attracting and retaining clients is one of the most difficult aspects of being a salon owner. Rather than fret over an expensive marketing plan, use these effective salon marketing ideas to enhance existing practices, grow customer base and increase customer retention—courtesy of StyleSeat.
Enhance your online presence
When potential clients are looking for a new salon, you want yours to be easy to find. Thanks to the internet—from social media platforms to digital marketing—your business information can literally be at their fingertips. A strong online presence makes it easier for customers to find your location, view available services, browse stylist options and read customer reviews. Drive more people to book salon services with the following salon marketing ideas.
1. Set up a Yelp business page.
Online reviews are more important than ever. A Yelp business page offers you much more than an online review site. Yelp also allows customers to book appointments, post photos of your salon (or their new hairstyle), check in at your business and share where they've been with friends. 
2. Add a Book Now button on your Facebook page and website for online reservations.
The goal of all salon marketing strategies is simple: to fill up your available time slots. Online Book Now buttons offer clients a peek into your appointment book, making it easy for them to schedule without having to call or visit in person. Customers can select stylists, service options and available appointments on their own time from wherever they are. To maximize the number of confirmed online bookings, we recommend having a Book Now button in multiple places online — such as your salon website, Yelp, Instagram and Facebook. 
3. Target local, service-focused keywords on Google Ads.
As the most-used search engine in the world, Google is essential for getting your salon's name in front of clients. However, because of the site's worldwide reach, salon business owners must narrow their focus by targeting local service keywords. To reach local customers, you can adjust your ad settings to target people in your service area. In addition, your Google salon advertising should utilize localized keywords, such as the following:
Hair salon in Tulsa
Hairstylists Phoenix
Portland beauty salons
Manicures in Lakewood
4. Add your business profile on Google Maps. 
A critical step in managing your online presence is adding your business profile on Google Maps. A Google My Business profile allows you to provide up-to-date information regarding your address, phone number, business hours and website details. The profile also enables you to respond to reviews and questions, add photos and post updates. Providing accurate information is also the best way to show up on a potential customer's search for a "salon near me." 
Verify your business on Google Maps.
It's essential to verify your business listing on Google Maps. You can do so by following these steps:
Sign in to Google Maps.
Search for your business's location.
Right-click on the map to add your business.
Follow the additional instructions that appear on screen.
5. Add Meet Your Stylist to your website for guests to take a survey and match with a stylist.
If you want to serve potential customers and collect key marketing data at the same time, sign up for Meet Your Stylist, a website add-on that matches clients with stylists. Available to businesses for a monthly fee, Meet Your Stylist gets customers excited about your salon, while also collecting useful information such as demographics and contact details. 
6. Include salon stylist bios and specialties on your website so clients can choose their stylist accordingly.
If you're looking for free hair salon promotion ideas, create your own stylist page on your salon website. While not as interactive as Meet Your Stylist, it offers a cost-effective way to introduce your beauty professionals to potential clients. Customers can select a stylist based on profiles, specialties, photos and any other information you think is helpful. 
Update your social media pages.
All successful salon marketing strategies include a strong social media presence. Beauty is visual—and visual content such as before-and-after photos, how-to-tutorials and even salon video tours can draw in customers. You can also update your social media platforms with discounts, salon news and other posts that keep current and potential clients in the loop. 
7. Join and advertise in local Facebook groups.
Because your salon's audience is local, Facebook groups provide a great way to connect with the local community. Relevant Facebook groups in your town likely include hair care, nail art, women's groups and many more. 
Be careful not to simply blast these groups with your advertising. This type of salon advertising focuses on building relationships—marketing should be done organically as it comes up in conversation. Engage with the group often, not just when it applies to your salon services. Doing so builds trust and credibility so that when you do advertise your salon business, members of the group take notice.
8. Run a promotion using Facebook ads.
If you want to market your salon to a wider audience, try Facebook ads. While it requires a bit of initial setup, you may find Facebook's ad targeting features worth the effort. You can decide whether you want your salon advertising to target new or existing customers, your Facebook followers or people who have (or haven't) visited your website. You can also set the targeting radius around your salon's address, as well as choose your audience based on age, gender, interests and more. 
Examples of promotions
coupons for first-time customers to drive new bookings
seasonal discounts such as New Year's specials or Black Friday deals
free services with a purchase, such as a free conditioning treatment with a haircut 
9. Publicize service bundles and discounted add-ons.
Other salon promotion ideas revolve around service bundles and discounted add-ons. By packaging your services together, you encourage customers to spend more in one visit. You can appeal to both new and existing clients by posting these deals on your salon website or social media platforms such as Instagram, TikTok or Facebook. Successful hair salon promotion ideas could include the following: 
a 10 percent discount when a customer books a haircut and coloring service at the same time
Mother's Day or Valentine's Day packages offering multiple services at a discounted rate
gift certificate deals where customers receive $125 worth of services when they buy a $100 gift certificate
10. Ask stylists to tag the salon in social posts.
Your stylists do great work and make a natural feature in your social media marketing. Encourage stylists to share salon content on their social media accounts or to create their own content, such as featuring a hairstyle they did at the salon. To maximize their efforts, ask your stylists to tag the salon in any of their social media posts. 
11. Create a story highlight on Instagram to showcase the stylist's skills.
Instagram is all about visual content, making it an ideal platform for salon social media marketing. After you've added your Instagram bio and Instagram Book Now button, use the story highlight feature to group related content together on your profile to make it easily accessible for clients who view your visit profile.
You can create categories such as haircuts, nail art, wedding parties and more, grouping content under a distinctive cover image with a creative name. The image and name stay on your profile so that anyone can access the highlights by clicking the cover image at any time.   
Ideas for Instagram highlights
Consider trying the following salon promotion ideas on your Instagram story highlights:
Salon tour: Show prospective clients the inside of your salon by posting your own videos and sharing clients' stories where they tagged the salon.
Before-and-after photos: Everyone loves a good before and after! Include photos or videos of hairstyle changes so followers can see the results.
Hairstyles: To showcase hairstyles done at the salon, post photos/videos of completed looks. You can also share clients' and stylists' stories whenever they tag the salon.
Meet the stylist: Include a highlight with each stylist's picture and a brief bio or create highlights with a stylist's name to see their full range of work.
12. Utilize hashtags based on location.
Like the index of a book, hashtags help people find a specific topic in a maze of content. Keep hashtags short, memorable and clear—you don't want to be so clever or niche that no one gets it. To find relevant hashtags, look to industry influencers and even your competition. When in doubt, use hashtags that describe what you are and what you do, like #DallasSalon or #MemphisNails.    
13. Set up a TikTok account and post videos of your salon in action.
Salon marketing plans should include some sort of video because videos help build trust with potential customers and promote booking appointment conversions. One social media channel has truly harnessed the medium's power: TikTok. 
Video ideas to post on TikTok
Supercharge your video presence with the following TikTok salon marketing ideas:
Beauty transformations: Show hairstyles or manicures with before-and-after videos.
Easy haircare hacks: How to tame flyaways, style a trendy cut, or make the perfect messy bun create fun hair salon promotions that can be visualized on TikTok.
Stylists at work: Bring clients into your salon by showcasing your professionals at work.
Hairstyle trends: Increase your salon's visibility with videos that show that you're on top of current hairstyle trends.
14. Work with local influencers.
Influencers have their own loyal followers who trust them to recommend services. Partnering with an influencer allows you instant access to their followers, giving your marketing reach a boost. When the influencer tags your salon and showcases your excellent work, it's like word-of-mouth marketing with a megaphone. 
Because finding someone local is important, perform a Google and hashtag search for local bloggers to find an influencer you want to work with. Reach out through social media direct messages, or email, offering free services in exchange for posts about their experience. 
Build client retention through email or SMS
Visible, engaging content on your salon website and social media attracts clients in what is known as "pull" marketing. "Push" salon marketing strategies, however, keep your brand in front of customers whether they're looking for you or not. SMS (text messages) and email marketing are two important tools in your salon promotion kit. 
15. Ask clients to leave a review by sending a link through email or SMS.
Simply put, reviews matter. Invite your current customers to review your salon by asking them at the point of service and following up with a link via email or text. Not only does asking directly generate more reviews, but you also get real-time feedback. Use the feedback to see what's working well, what services are popular and what issues you may need to address.
16. Email birthday discounts to existing clients.
Everyone likes to be remembered, and a birthday discount is a great way to remind customers of how much you value their loyalty. 
So if you want salon promotions that work, consider offering customers a discount, such as 50 percent off any service or a free add-on service, the next time their birthday rolls around. Such a discount offers incentives for customers to visit your salon and keep coming back.
17. Promote holiday limited-time offers through email.
Holiday discounts take advantage of special occasions that only happen once a year. By creating a sense of urgency, such limited-time offers encourage customers to act fast. You can also create your own holiday by implementing salon promotion ideas during a low season—hold a flash sale, anniversary special or giveaway contest whenever your business could use a boost. 
Capitalize on your salon's popular seasons with a back-to-school special for families or holiday haircut deals in December. Also take advantage of local events that naturally increase business, such as when prom or other special events roll around. Engaging with your customers helps you anticipate what holidays or events might impact your local community the best.
18. Keep your salon top of mind with biweekly email newsletters.
Although it seems like social media gets all of the attention, many small business owners neglect the power of email marketing, which is an effective approach for promoting brand loyalty.
You can keep your content fresh and relevant by targeting specific segments of your client base. Break your email list into groups, such as: 
Demographics: age or gender 
Client type: new leads, existing clients, or VIPs
Service history: preferred services, number of visits or product purchases 
Targeted emails allow you to tailor your content and address the unique needs of your customers. Plus, you can better understand each segment of your client base to determine what interests them the most and what approach gets the most engagement or conversions. To avoid becoming an annoyance or white noise, aim to send your email newsletter every two weeks. 
19. Email clients about two-sided referral rewards programs.
Referral incentives put your happy clients to work for you. With a two-sided referral program, both your clients and their friends receive discounts or freebies for successful referrals. For example, if a new client learns about your salon from a current client, both customers receive a discount off their next service. 
Considering how powerful personal referrals can be, combine that with a tempting discount, and you make it easy for new customers to book appointments. Both your customer and their friend not only end up using your salon services, but they also engage with others about your salon and what services they used their discount for, creating a word-of-mouth campaign that works for you and keeps them coming back. A two-sided referral program offers a win for everyone involved. 
20. Simplify appointment reminders, confirmations and rebooking through automatic SMS responders.
Once you've done all the hard work of gaining new customers, you want to make it easy for them to connect with your salon. SMS responders send texts to remind clients of appointments and allow them to reschedule or cancel. While also providing a personal touch, these cost-effective solutions help prevent missed appointments, reduce the burden on your scheduling staff and allow customers to manage their bookings on their own time.
Strengthen client retention in-person
Once your salon advertising gets customers in the door, help keep them there with effective, in-person promotional tactics. The following salon marketing ideas focus on building retention, making your customers feel valued and strengthening their relationship with you. 
21. Give out business cards after each visit.
In the "oldies but goodies" category, business cards still matter in our modern online world. They display your salon's brand identity, demonstrate your professionalism and distribute your contact details. As tangible objects to hold on to, business cards help customers book their next appointment (even if they're not online) and recommend your salon to others.
22. Offer points-based loyalty programs to clients during checkout.
Like punch cards and referral programs, points-based loyalty programs reward customers for doing business with your salon. You offer a set amount of points for each referral, service or product purchase, and then reward customers once they reach certain thresholds. 
Loyalty programs allow you to better engage with your customers because you can describe a wider variety of products and services when explaining the point system. You can also use it as an opportunity to increase retail sales by encouraging customers to add products to their visit, which can help them earn more points. 
23. Offer product discounts during checkout to returning clients.
Make your returning customers feel appreciated by offering free or discounted products at checkout. Offer a free shampoo or gloss treatment with their hair service, or you can offer free polish for touch-ups after a manicure. Offering free or discounted products at checkout can help move inventory and create goodwill all while building a relationship with your customer. You now have a conversation starter at their next appointment—ask, "How did that product work out for you?"
24. Ask clients to rebook for their next visit before checkout.
By offering to rebook at checkout, you can help get your clients back in the salon before they're even out the door. Instead of simply asking, make it part of your checkout routine to give clients a reason to rebook. 
Perhaps you let them know how quickly you get booked, or you let your clients know when you need to see them again to keep their new look fresh. No matter how you set it up, offer to conveniently get them scheduled now to increase the likelihood that your clients will return promptly.
25. Hand out punch card coupons for a reward on a client's tenth visit.
Another marketing staple, punch cards reward customers for their loyalty to your business. After their tenth visit, your salon gives out a free service or product because you know it's much easier— and cost-effective—to keep one customer returning ten times than to try and find ten new customers.  
As the salon owner, consider carefully what products and services apply toward the punch card as well as the reward to give on the tenth visit. You want clients to see the value of returning, so you need to select products and services they value most. From free haircuts or manicures to free full-size products, punch cards offer a tangible token to engage your clients and market your small business.
26. Partner with local businesses to give a coupon at checkout.
Pool your marketing efforts with another local business by handing out each other's coupons at your registers. Don't simply drop off business cards at the partner location—be sure that you frequently visit and engage with the staff. The more they know you, the more likely they are to refer their customers to you.  
While you don't want to partner with a direct competitor, your audiences should overlap enough that their clientele could easily become yours and vice versa. Since visiting a salon should be an experience, look for businesses that can help extend that experience. Partner by location (for example, a cafe in the same shopping center as your salon) or by theme (such as a wedding planner or formal dress shop in town). 
27. Provide an itemized list of the products used on the client to promote sales.
To promote product purchases in your salon, provide customers with written lists of products used during their visit. Be sure to tune in as clients discuss things they enjoyed about their salon experience and highlight the product that gave them that shine, offered a great scent, produced the vibrant nail color and so on. 
Better than just verbally giving them a list, customers can refer to a text, an email or printed notes when they want to buy products weeks or months later. When paired with your business card, you offer added value as well as a way for the customer to get back in touch.
28. Sponsor community events.
To promote your salon business to a wider audience, you might want to sponsor a community event. Consider sponsorship to be a long-term investment. Besides creating community goodwill, at local community events, you can tap into a customer base you haven't reached before and generate brand awareness while meeting new potential customers. 
Consider these hair salon promotion ideas that involve community sponsorship: 
Offer free haircuts during a hair donation event. 
Donate goodie bags with hair care products or service coupons to a local raffle.  
Have a toy or food drive at your salon, giving clients a discount for each item (or number of items) they bring.
29. Host community events like meet-and-greets and hair tutorials.
Get customers in the door with community events at your salon. Host events or create your own event so new and current customers can meet stylists and get to know your salon better. Offer practical tutorials on exciting hair or nail trends, or show attendees how to do a relaxing head massage. Reward your customers and promote your brand at the same time with gifts like travel-size products or branded items like pens and nail files.
30. Set up a fundraiser.
Charitable events demonstrate your salon's goodwill and help you build relationships with clients. As a salon business owner, you can set up your own fundraiser by pledging a percentage of proceeds to the charity of your choice. Per-purchase donations are a great way to bring attention to a new product or service, or give your salon a boost during a slow season. You can set the rules and time frame that make sense for your bottom line: Donate a portion of all salon services for one day, or all products for a week. 
Whether you want to start small or make a big splash, there are plenty of salon marketing ideas you can try for your business. Getting listed on StyleSeat will also help you grow your clientele and fill your schedule.