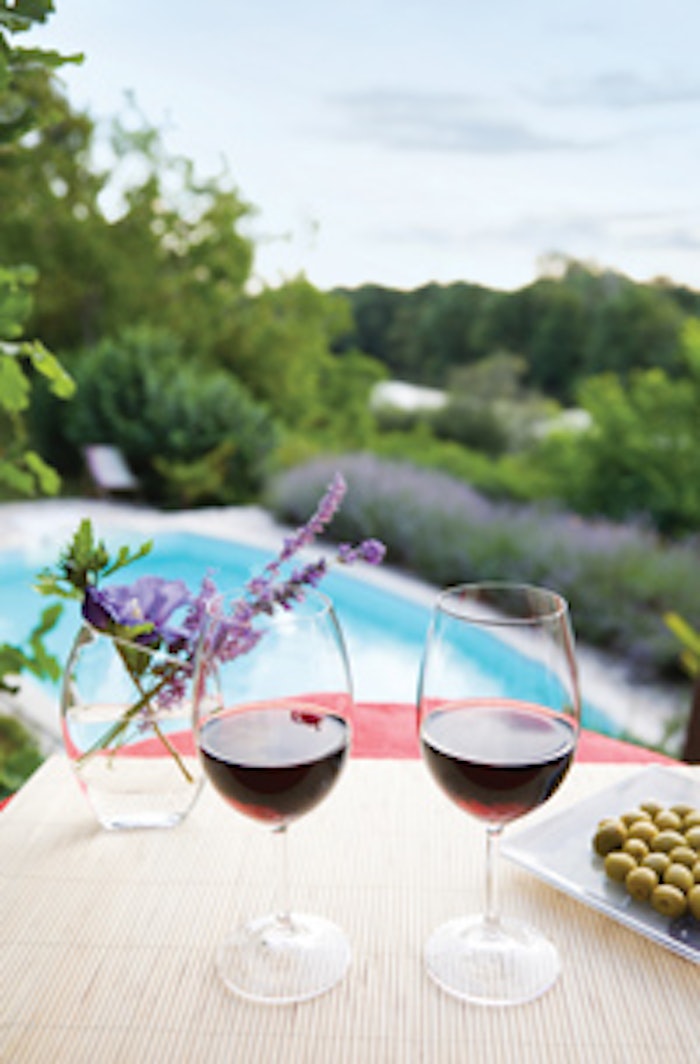 The spa industry currently is facing quite an unusual business climate, so there's no time like the present to figure out how to drive more traffic through the doors.
Waning traffic is a huge challenge for spas today, whether clients are scheduling their appointments farther apart or just eliminating some maintenance services. In fact, two highlights from a recent survey from market research and quality benchmarking firm Coyle Hospitality indicate that clients are most likely to first give up body and nail treatment options when cutting out services. It is so important to create traffic-driving opportunities by hosting events, much like when you first started your business and all you wanted to do was show your talent to any willing person. It's crucial to create opportunities to touch clients as often as possible.
Events
Following are five different types of events that your spa can host in order to provide interesting opportunities to welcome new and existing clients.
Launching a new service or product. Any new initiatives that can excite clients and encourage them to learn more about a service and how it can impact them will be successful. This can be new peels or even a new piece of machinery in which you have invested and need to promote for future service options. Schedule a meeting with your spa partners, distributors and brand account executives in order to align any of their marketing pushes with your spa's marketing and training calendars. This allows you to plan your business and create exciting launches, providing newness not only for your clients, but also for your staff members by engaging them, keeping them trained and helping them excel in their careers. Because manufacturers occasionally have delays with product launches, it's important to regularly communicate with your brand account executives so that any stalls are known about well in advance, allowing time to adjust event calendars accordingly.
Bring your own bag (BYOB). Encourage clients to bring in the skin care products they are currently using to see if there are any that may not be working for their skin. Perhaps they are missing a step that will lead to the results they are seeking. Also important for this workshop is to watch clients cleanse their faces; use this opportunity to coach them on proper cleansing techniques, such as starting with eye makeup remover, then lips, then cleansing the face and neck area. Ensure they use a toner on a cotton pad to help remove all the cleanser and debris that is often still on the skin. If their skin care regimen is missing a product, offer them the chance to try a sample of yours while going through the workshop and introduce other ways to use products. Scrubs can also be effective for hands, elbows, knees, feet and the backs of arms with keratosis pilaris. Use this opportunity to educate your clients about multifunctional products to help them see the value in their investment.
Handbag reading. Can you really tell a lot about a woman by seeing the cosmetics she carries? Another way to promote this event is to simply ask clients to bring in their makeup bags in order to see what products they are able to work with and which ones may no longer be serving them. This also allows clients to integrate some new options that will give their faces fresh perspectives and keep them current with each season's trends, and is a great event to hold biannually.
Couples or baby massage. If you have specialized training in infant massage or couples massage, plan an event to introduce the benefits to new parents or married couples. Consider adding a training session that teaches ways to apply these massage techniques to a package for a new mom, or maybe a bridal shower gift certificate. Although this will never take the place of a professional massage, it assists in bringing awareness to massage and creating a bond.
Custom blend events. Whether you offer custom blend makeup, spa services, skin care, aromatherapy or all of the above, this is a great way to introduce personalized services that are unique to each individual client's needs.
Planning for the year
Driving traffic involves a lot of planning. It can be extremely useful to lock yourself in your office with a do-not-disturb sign on the door and review marketing calendars—and sales and training calendars all at the same time—in order to plan the coming year. Also during this time, consider your staffing concerns, such as maternity leaves, leaves of absence, extended vacations and other important factors that will affect your business so you can plan exactly what is required for your spa to thrive.
According to Heather Hess, field sales manager with Murad, working with her accounts at least three months out when planning events helps ensure success. She regards events as opportunities for full staff involvement, but success requires regular communication with the team in order to be successful. Make sure team members know the expectations, their individual roles, the attendance goal and how many clients each is required to personally invite. Suppliers today know the value of fully partnering with their accounts in order for the spas to be successful, so a spa owner or manager should work with the manufacturer for this type of in-spa support.
It is also critical to have enough flexibility in your calendar to move events if the need arises. Some owners, such as Kate Leydon, president and founder of Ruby Room in Chicago, plans events on a quarterly basis, allowing her the option of going with what is popular or what needs to be promoted in the moment.
Just do it
As with anything, experience counts. Once you have a few events under your belt, it becomes easier to conduct them successfully. Each is an opportunity to learn as a team what works and what can be tweaked for maximum results.
Events provide so many options to clients, and allow spa professionals to educate and engage their clients while creating opportunities for them to experience services that they may not normally have experienced. In order to set up an event for success, many factors should considered. Julia Watt, director of salons for Dillard's department stores, recommends allowing each event to be customized, partnering with local retailers to help leverage clients between the businesses, and increase traffic and exposure to new opportunities.
Successful event models require some key information to be conveyed to the team. Watt's formula for success always includes the following questions.
Why is this event important for the clients and the spa team?
What are the goals that need to be accomplished?
How should each team member participate, including practice time for spa professionals?
What are the results that deserve celebration?
Watt emphasizes the importance of celebrating successful events and making them fun for the spa team. Leydon also finds that staff involvement is critical to client attendance. A spa professional's enthusiasm about an event and encouragement toward regular clients to bring in a friend introduces the spa to a new potential client who is already connected through a raving fan. And because team members participate in the actual events, it provides an opportunity for them to meet potential clients and grow their business.
Reservation required. Ensure clients are committed to your event by requiring a reservation fee to hold a client's spot. Make sure the client knows the fee is redeemable toward a purchase the day of the event, and the cancellation policy ensures a successful turnout. When a client brings a friend, consider reducing the fee for two people. Creating fun incentives makes your business accessible to new people or encourages existing clients to try new services.
Confirmations. Two days before the event, Leydon recommends calling clients to confirm that you are looking forward to seeing them at the event. It is important to word it this way instead of asking if they are they coming to the event. For example:
Right way: "Hi, Louisa! This is ABC Spa calling to let you know that we are really looking forward to seeing you at our custom blend event on Thursday."
Wrong way: "Hi, Louisa! This is ABC Spa and we were just wondering: Are planning on coming to the custom blend event on Thursday?"
Invitations and more. The Ruby Room reaches its clients via its spa newsletter, e-mail blasts, personal invitations, in-spa signage, an education calendar, a website, a Facebook page, www.meetup.com and www.eventbrite.com. Kristi Konieczny, founder of The Spa Buzz, a company that connects spa and wellness industry leaders and innovators by organizing networking events, has learned what works for her business is to get attendance. "I make sure the e-mail subject lines do not include the word 'newsletter,' " she says. Konieczny also learned quickly that to get an individual to open an e-mail, the subject line has to be catchy. She recommends sending weekly reminders until the day of the event. And, she says, "Nothing beats a personal phone call to invite someone to your special event."
Incentives. Offering a special incentive for booking a future full-service treatment while still at the event, before the client leaves the spa, also increases the chance for attendees to become regular clients. Another incentive idea is to have a sampling program with purchase, so if a client purchases a cleanser and a moisturizer, they could enjoy a free sample mask or eye product. Partner with your brand account executives to see what support they can provide with gift-with-purchase incentives.
Follow up
After your event concludes, meet with your team, celebrate successes and find out what went well and what could be improved. Keep good notes about who attended and total sales. Most importantly, hang on to this post-event summary for next year so you can refer to it and plan accordingly.
As the visionary behind many of the current spa services and skin care products available at Mario Tricoci Hair Salons & Day Spas, Elaine Sauer is the company's corporate director, spa, with nine years of experience managing multiunit day spas. With a number of awards to her credit, including the Spa Spirit of Success Award from Aveda and diplomate distinction from CIDESCO, Sauer is a sought-after speaker, both nationally and internationally. She is also a member of Skin Inc. magazine's 2010–2011 advisory board.