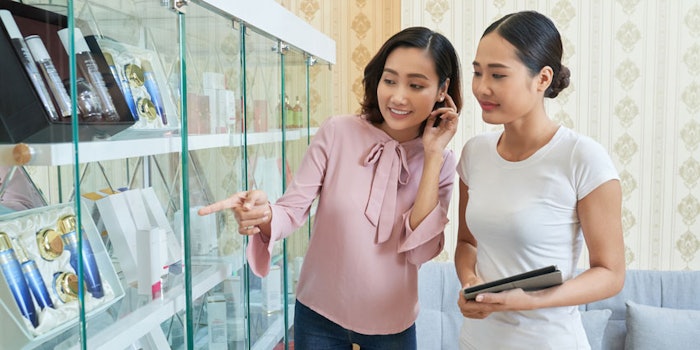 Wouldn't it be nice if new customers stumbled through your door on accident every day? Through no effort on your part, they'd easily find you and happily purchase oodles of your products and services. Unfortunately, we know that building a loyal customer base doesn't happen this way; it takes time, effort and money. The good news is if you've been in business for a while, you're probably doing many things well, but can you do them better? Can you make a few simple tweaks in your current daily sales habits and greatly improve your bottom line? Yes, you can with the art of the add-on.
The Importance of Repeat Customers
Did you know that businesses never really make money on any customer's first visit? While it's a wonderful feeling to get a new customer into your treatment room, it's the second, third, fourth, etc. appointments that actually give you a return on your investment. That's because you had to spend something to get that customer to your spa in the first place, whether it was paying for a website, Google Ads, Groupon ad, printed marketing materials, rental space, treatment rooms, products, equipment and so on. So, for profit's sake, it's essential that they come back to you in the future.
Strategize Your Add-Ons
Before your customer arrives, think about what you'll offer them to encourage repeat business. The easiest place to start is with an add-on treatment or product, something that's synergistic with the treatment they're getting that day. For example, if they're coming in for a facial, you can suggest a chemical peel at a special price on a future visit. If you have time, you can also offer this for the same day, but it depends on your schedule and your client's preference.
Tell your new client about a product available for purchase that would be perfect for post-facial use at home, as well. The point is, don't wait until they're on your treatment bed to think about add-ons; know what you're going to offer ahead of time.
Finding the Best Time
I always say that great selling techniques aren't sales-y at all; instead, they involve telling stories that get people excited. Let your client get comfortable before rushing into anything. Then, mid-treatment, it's time to tell your story; maybe it's about a previous client who got an amazing result from a series of anti-aging facials.
Maybe your story is personal. For example, tell them how you used to have serious sun damage but a new product has worked better for you than anything else you've tried. You can even pull out your phone and show the client your before pictures. Pictures are worth a thousand words.
Make Add-ons Part of Your Business Culture
Remind the client of the suggested add-on when she's ready to check-out, but be sure that you or your frond desk person does it very casually. The idea is to push gently, without being pushy. The client might not be ready to purchase that day but chances are, if you've told a good enough story, she'll think about it for next time.
If they don't purchase the same day, don't give up. Follow up with an email or text that sweetens the deal just a little bit more. You can also let them know when you've had a last-minute cancellation, and ask them if they'd like to take the appointment. You could offer them an additional 25% off the service in which they're interested.
You know how McDonald's and Starbucks always ask if you'd like to "make it a meal" or add on a snack to your coffee purchase? That's because it has been ingrained in every employee to do so. Follow their lead; make sure every employee offers an add-on purchase, every time.
Overcoming Objections
The best way to overcome objections? Make them an offer that's too good to pass up: an additional treatment for free (with purchase), a crazy discount, a very limited time offer, etc. Remember, clients will respond to your enthusiasm more than anything else. If you're genuinely passionate about the offer, chances are, they will be, too.
3 Tips for Add-on Sales
If a client isn't ready to make an additional purchase, offer them a sample treatment or a product to take home with them.
It's helpful to write down the add-on treatment or product that you plan to offer your client ahead of time, and think about the story you want to tell them.
Practice your story! Try it out on friends and family and see if it gets them excited. If not, keep practicing and have fun with it.