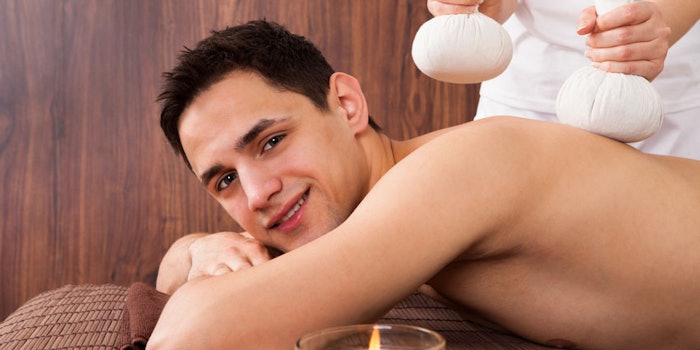 Majority of spa technicians generally don't see men in the spa unless it's to purchase a gift card for Christmas, Valentine's Day and Mother's Day. The spa industry has been female dominated and has been changing over the years to include men's wellness. But how much of an increase have we seen with men visiting our spas? How do we make men feel included and welcome in a female dominated industry?
The Manly Metrosexual Movement
The term metrosexual has created awareness for men to learn about personal appearance from grooming to beauty treatments to fashionable clothes. It's fantastic that men are taking an interest in their wellness needs period, especially in a world of just being overloaded! Men need to take time for their wellness and health. I asked many men what are their main concerns as they age. Here is what they said in order of importance.
Weight gain. This is why many men join a gym because they feel the need to act on managing their weight. 
Hair loss. They said they either shave their hair short or receive a hair transplant when they see the signs of balding begin.
Dark Circles. They aren't taught about skin care, so they aren't sure what to do about them.
Crows feet and forehead wrinkles. Again they are not taught about skin care.
Looking tired. They don't want to look haggard or tired.
Some men shave almost daily, which means the bottom part of their face does not age as quickly as the eye area and forehead. Their facial shaving helps exfoliate dead skin cells causing cellular turnover faster, resulting in smoother younger skin. It's no wonder they are mainly concerned about the top half of their face.
Treating the Male Needs
Dark circles, crows feet, forehead wrinkles, haggard and tired are right up our ally to treat. We are pros at this! We know wellness best. First off, we know men like simple, straightforward, quick, efficient and result-oriented treatments. So let's base their treatments to 30-minute treatments unless it's a massage.
Some treatments that address dark circles, crows feet, forehead wrinkles and a haggard or tired appearance include: 
LED eye treatments,
Micro-current eye and forehead treatment,
30-minute express facial,
peels
waxing and
Cryo facials. 
Cryo Facials, in particular, are great for men because they are fast and phenomenal and the results are seen almost immediately. This type of tangible service is very good for men.
Another way to build your male clientele is to introduce yourself to your community. Visit the Police Department, Fire Department, EMT, Service Department, Sanitation Department, Building Department, local banks, men's clothing stores, trade schools, barber shops and chiropractors. Ask them if you can set up a chair massage or a facial table and do complementary mini services. This is a great way to introduce yourself and your spa services to men, plus you are creating a relationship built on trust and dependability. You are taking the initiative. It lets them not feel vulnerable since the first introduction is in their environment. This is such a win-win because of the next service they will come to your spa.
Addressing Retail with Men
When men are shopping, they are looking for easy and to-the-point; they are not looking for sales. According to Forbes Magazine, "Men are concerned with what's fastest and easiest. Male shoppers have a higher average income, making them generally less interested in sales and coupons and finding the best deal."1
Also, be sure to take a good look at your spa and website. Ask yourself whether it's welcoming for men. Is your spa decorated in neutral colors? Are there any services on your menu that are geared for men? Is your retail area packaging predominately female? Are your retail products predominately feminine? Are there pictures of men's spa services and skin care in your spa? Men feel awkward in a spa because it's female dominated. By incorporating male services, skin care products and images, you will appeal to the male clientele.
In my experience, I find the male clientele to be realistic with their wellness needs; they are direct with what they want. Increasing men's overall wellness is an important goal, and it helps them to take better care of themselves.
After all, Mickey Mantle once said, "if I knew I was going to live this long, I'd have taken better care of myself."
References: