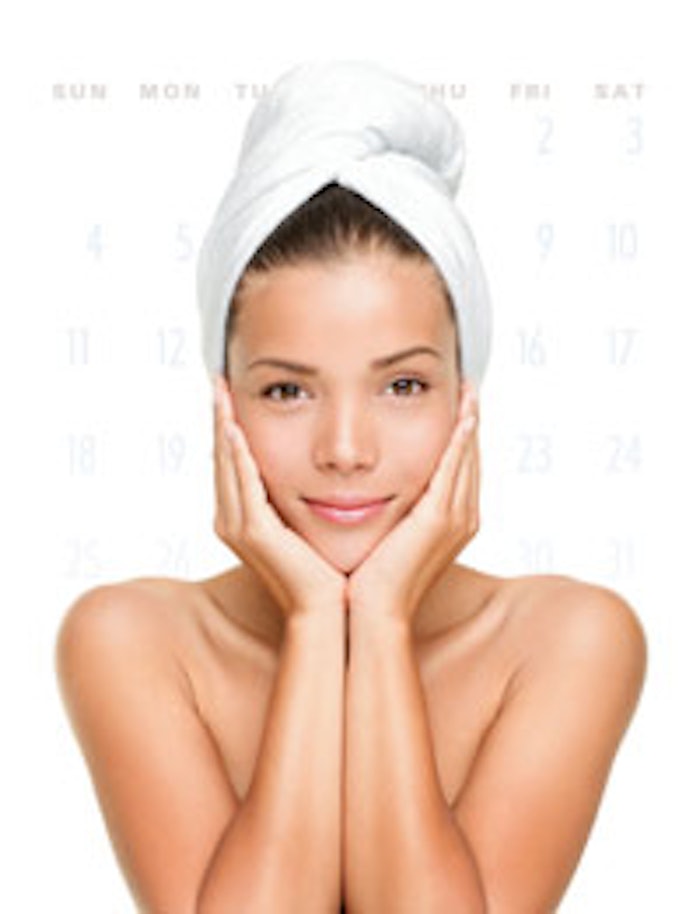 Merchants in the retail environment are starting promotions earlier and earlier to get their share of the profits before other businesses. This can slowly chip away at your revenue as your clients spend their limited budgets elsewhere. If you think this is happening by accident, think again. Careful planning and execution by many of these retail giants six-to-12 months ahead of time can rob you before you realize it.
However, with aggressive thinking, you can fight back, because the professional skin care industry not only can market service packages, but also customizable, exclusive retail products, as well. This is when planning is crucial.
A road map for success
Do you have a road map for success, or a structure for your business to give you some direction? No matter if it is before the year begins or in the middle of it when a rolling calendar can be used, it is never too late to plan a promotional template. Think of this as a merry-go-round, and you and your business are jumping on as it is moving forward. See Future Planning Schedule. Why is it important to start now? Without a calendar, your business will have no structure, and putting an organized, monthly schedule in place with advanced time allotted for planning and execution will assist you in becoming more successful and profitable.
You cannot plan where you want to take the business unless you know where it has been and what has worked. There is so much creativity in the professional skin care industry. If you can let your imagination take over and tap into team ideas as well, you will reap the benefits of a strong business-building development strategy. The plan is not one that is set in stone, but one that can be changed or embellished as your manufacturer partners add their promotions and new product launches to the mix.
Time to brainstorm
If you work as an individual skin care professional, ask your brand representatives and perhaps a family member who is in business to sit in on a planning session. If you work in a skin care facility, full-service salon, spa or other type of business with multiple service providers, hold a meeting with everyone. When the entire staff is part of the planning process, they become vested and buy into taking responsibility for the business's success. Complete promotional calendars require a lot of work for execution, so the more people who take part and are accountable for their segment, the more successful you will become.
Planning month-by-month, you need to decide on a major focus for your business that you want to develop. Perhaps you want to increase your client base if you have new service providers that need appointments on the books. Or maybe you want to focus on building your retail dollars during a specific month to help increase your cash flow. What demographics are you trying to build—women, men, both or the teen market?
Now that you understand your particular focus, consider picking a clever theme to keep your topic in the mind of your end user. To assist with the promotion, ask yourself: Will there be any additional education or licensing needed to execute a specific service and then, what will that service and retail promotion actually look like? To drive retail sales, will you need to schedule a contest with any group of service providers and how will that be put into place to be successful?
Create a brainstorming chart and take it to a quick-print store to blow it up as large as possible, then place it on a master board for your meeting. (See Brainstorming Chart .) Now insert standard major holidays on the chart under the promotion column. For example, February—Valentine's Day; May—Mother's Day; June—Father's Day; October—Halloween; and December—seasonal holidays.
Once you have your base holiday/promotion list, you can begin to fill in the other months with possibilities. Write as many ideas as you can think of on the chart and, during your meeting, discuss which ones will have the most positive impact on your business. Don't forget important milestones in your business's history. Perhaps, during the month that you opened, you could hold an anniversary bash, with significant years being even more promotional. Is it time to spruce up your retail and reception area with new shelves and furniture? Turn that into a promotional month to increase retail with a remodeling event—"Drastic Clearance to Make Way for New Shelves!" Is a manufacturer launching a new product or product segment? How about hosting a product launch party for your clients? During some or all of your events, consider using themes or catch phrases that will peak your clients' attention. These will help them remember the event or promotion, and create more of a buzz. Make sure this theme appears in all literature and that team members use the phrase when speaking with clients.
Now you can cross off ideas and themes you have rejected, and write the final decisions on the smaller grid sheet. This will be the beginning of your foundation for the year, and can be placed on your office wall or in the break room as a reminder of what will be taking place for the future. See Completed Chart.
Begin the execution
Once the structure is in place, it is time to begin your planning meetings. Meetings for a particular month should start to take place three-to-six months before the actual event.
For example, in January, your meeting with team members will be discussing plans for May and finalizing any details for February. (See Future Planning Schedule.) You should be launching your marketing messages no later than the last week of January for your February promotion and product displays, and everything you have worked on should be in place. Your discussion for May, assuming you are planning a Mother's Day promotion, should cover any special staff education that might be required, as well as any service and retail promotions that might be put in place. For example, if you are trying to boost your gift certificate business, you might offer a pre-wrapped product package with a specific gift certificate level purchase. This is a great promotion for a man to give his mom or wife because it is a certificate and gift at the same time, does not discount services and is appealing as a value-added promotion to the certificate because an item that might cost you $17 might be a $34 or higher value to the consumer.
If you are thinking of including an event in the month's activities, identify which staff member is in charge of food and who will put together the marketing literature and e-blasts for the event, as well as all of the promotions. For example, a suggestion for a Mother's Day event might be a mother-daughter night with special services and promotions. Your client might be the daughter bringing a mom to the spa for the first time, which could lead to numerous new clients that evening. Have fun, think out of the box, and get creative with your promotions and events to achieve maximum success.
Your planning meeting will be summarized with the notes you take on your January meeting sheet and placed in your planning notebook. (See Meeting Sheet.) Each month will have a similar detailed sheet of what is planned three-to-four months into the future, who will be responsible for each task and what budget will be needed. There should also be a review sheet of the previous month to make notes of what worked and what did not so that it can be accessed when considering the same events the following year. (See Review Sheet.) Also, this gives you one last time to review the coming months' activities to make sure that everything is on track and ready to go. So during January, you will be checking on February from the notes you made during your October staff planning meeting.
Get into a routine
To summarize, during each monthly meeting you will be covering three topics:
Planning for the third month out;
Checking on and making sure everything is ready for the coming month; and
Reviewing the past month to see what results were attained and making note of changes for the following year.
Once you and your team get into this routine, you will be on the road to creating a successful marketing calendar to assist in building your business.

Aaron Sonnenschein began his career in the professional salon industry at 16, working at Hart Beauty Supply Company, which he later purchased with his wife, Jamie. With a degree in management and marketing from Chicago's DePaul University, he launched JAS International, an import and visual merchandising company. Later working for Mid City/Salon Centric, a division of L'Oréal USA, Sonnenschein is now district manager for Dermalogica.