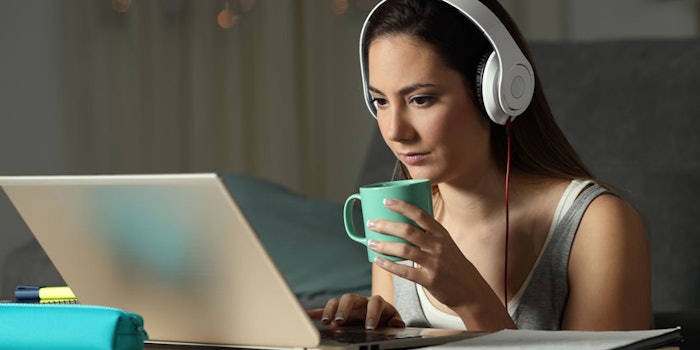 Quick question: How can you promote your products and services in front of a live audience of hundreds or even thousands of people with very little cost involved? The answer: webinars!
Many smaller business owners tend to shy away from webinars because they think they're better suited to big corporations with big marketing budgets, but that couldn't be further from the truth. Anyone can easily use webinars to educate, sell and generate enthusiasm for their business. Based on their growing popularity, it's time you added webinars to your marketing arsenal too.
Webinar Formats
There are different formats that people tend to lean toward depending on their audience and what they are trying to convey. 
Classroom format. We've all seen webinars that use a classroom-like setting (think professor standing behind a podium), and while it's well-suited for academic purposes, it isn't particularly exciting to watch unless the speaker is intensely engaging. 
Interview format. This typically includes a two person dialogue with one person typically leading the questions and the other, providing answers. This format works well when both the interviewer and interviewee are either enthusiastic or obviously comfortable in front of the camera; otherwise, it can come across stiff or forced.
Live demonstration format. In the world of aesthetics, this format can practically do the talking for you. You'll still want two people explaining the procedure (again, one asking questions and the treatment provider answering them), but the added visual of before-and-after results tends to get viewers really excited. This helps them think about what it would be like to get the procedure for themselves.
Keep Up the Energy
You know how you love spending time with your significant other, and how much you enjoy going to the movies with him or her? Well, imagine if you went to the movies every day, all day. You'd get bored, right? Instead, you mix things up by going to Top Golf or on a boat ride. 
This concept is also true with webinars. To keep things fresh, you need to mix it up. If you're hosting a 30-minute webinar and performing a facial the entire time, viewers will quickly lose interest. Instead, start with a five-minute introduction, explaining why the facial you're about to demonstrate is the best facial for sun-damaged skin, why Kim Kardashian loves it, how it stimulates collagen and how it can make you look ten years younger. Then, move into a seven-minute demonstration, followed by a one-minute special offer that the viewer can take advantage of by using a special code that you provide them. Then, switch to another introduction, demo and special offer. Finish with a few live testimonials and call to action (call or click to make an appointment, visit your website, etc.). 
Reap the Benefits of Webinars
Not only can webinars be very inexpensive to produce, you can easily create a party-like atmosphere for your webinar without the additional cost of providing food and drinks for all of your attendees.
While there's no substitute for the energy that a live webinar can produce, not everyone is available at the time you're live. However, you can provide a link or follow-up email for those who missed it, and they can tune-in to watch a recording at their convenience. Plus, you can market to your existing database (i.e., your contact list and social media followers). This can be a high conversion potential because these clients, or potential clients, are already interested in what you're selling. You can gain new contacts and followers by asking them to share your webinar invitation with their friends.
Spread the Word
Marketing your webinars can also be low-stress and cost-effective. About two weeks beforehand, post a 15 to 30 second video teaser on social media with an opportunity to RSVP right then and there. Note that you'll want to send them to one of your website pages where they can provide their name and contact information. Try three or four different short videos and see which one gets the most engagement on social media. Consider boosting your most popular post to maximize your reach. 
You can use the same invitation schedule via email and text, with a link to the video. Your email subject line should be catchy enough to promote action (i.e LIVE Webinar! XYZ Treatment Demo! RSVP Now!).
One week later, send out another invitation. Three days prior to the webinar, do it again. Finally, the day before, send out one more invitation along with a reminder to anyone who has already signed up. My company also sends out email reminders one hour before, as well as a 15-minute text reminder and a thank you reminder via email the next day.
Want more people to RSVP? Include a giveaway! Every attendee should receive a special offer or discount on a future service. Provide your viewers with a code that they can use when they book an appointment.
Taking the Right Approach
While webinars are fairly simple to produce, you can take a high-end approach or a lower-end approach: The difference is mostly cost. On the high-end, you'd hire a professional videographer who would help you set up your webinar location and do the filming for you. You can hire an interviewer to ask you questions about your business, treatments, etc. If your business location is small or not conducive to filming, you can even rent a studio in which to film. Or, you can do what most small businesses do: Whip out your smart phone, maybe purchase an inexpensive tripod to keep the camera steady, and just be yourself.
Top Tips for Webinars that WOW!
If you're filming your webinar with a smart phone, make sure it's fully charged and any notifications are turned off. It sounds overly simplistic, but these things are often overlooked; you don't want your phone dying or interrupted during a live presentation.
Practice, practice, practice! Know what features of your business and service you want to talk about ahead of time, write them down and memorize them. Stick to the advertised time and format.
As always, track your results to know which webinars generate the most engagement and ultimately, sales.