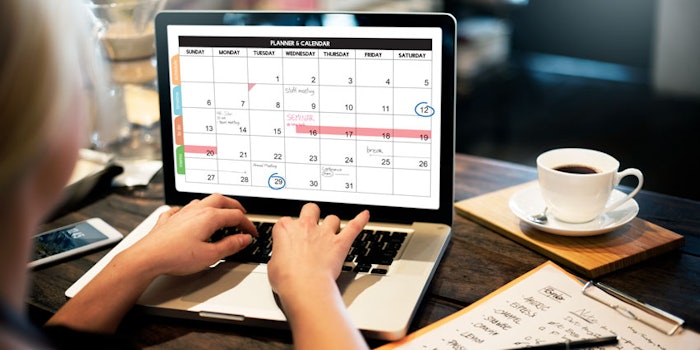 It's one thing to have goals and another to have plans for executing them, but there's a third component of this equation—putting your goals and plans on paper. Don't waste your time, and money, wishing for success. Spend a few minutes today figuring out what you really want and how you'll get it, and then, write it down on your calendar. A simple calendar translates into actions, and actions translate into results.
Did you know that writing down your goals improves the odds of achieving them by 42%? It has to do with the way the brain's right and left sides communicate with each other. Just thinking about a goal uses the right, or creative, side. However, writing down that goal engages the left, or logical, side; this, in turn, tells your whole body that not only do you want something, you're serious about getting it.
Starting Strong
Many people often get stuck just in getting started. That's because in today's world, there's a sea of marketing mediums from which to choose, and most small business owners don't have the time or resources for all of them. Heck, it's difficult enough taking care of clients and putting out fires, let alone worrying about marketing with Google pay-per-click ads, search engine optimization (SEO), social media, print, TV and radio ads, email, snail mail, hosting events, guerrilla marketing and PR marketing. It can be very overwhelming and unclear as to which ones actually work.
"Without goals, and plans to reach them, you are like a ship that has set sail with no destination." –Fitzhugh Dodson
The answer is, they all work. Some require more time than money while others require more money than time. The best way to get started is to simply set a budget and choose three mediums; then, determine how much time you'll spend on each one for the next four weeks. Maybe you have only ten minutes a day for social media, ten minutes twice a week for SEO, twenty minutes once a week for emails, or you want to host two happy hours per month. That's an excellent start. Now, write those tasks on your calendar as though they're just as important as your other appointments. Get really specific with details:
What kinds of posts are you going to publish?
Will you alternate between funny posts, educational videos and before-and-after pictures?
What types of new content will you add to your website twice a week to get better SEO results?
How often will you send out emails, and how often will they include a special offer?
If you're going to host two happy hours per month, when will those occur? How far in advance will you send out invitations? 
In marketing, as with so many other things in life, consistency is key.
Following Through
As important as it is to know what your goals are and when you'll execute them, it's equally important to know, and write down, your results. What worked? What didn't? What helped you get more phone calls in a particular week? How many people opened your emails? There's software than can help you track this kind of information. The idea is to always stay in front of your marketing efforts. There's no hard and fast rule for what works, but I can tell you from many years of personal experience that being willing to adjust your efforts on a regular basis is crucial.
The only way you'll know whether you need to make adjustments is if you know your results. If you're not tracking your results, it's like you're throwing darts in the dark. Sometimes you'll get lucky and hit the bullseye, but more often than not, you're putting unnecessary holes in the wall.
Visualizing and dreaming about success is an important part of the process, but don't stop there. Create a marketing plan that you can easily work with and write it down. Schedule, tweak and twist it until it gives you the results you've always dreamed about.
Louis "The Laser Guy's" Top Three Tips for Creating a Marketing Calendar:
Talk it out. Discuss your goals and ideas with a like-minded buddy or colleague, someone who believes in your success as much as you do. What has worked for them? Maybe they'd like to join efforts with you sometime? You can also put together a focus group with 5 to 10 people and ask them which ideas they like best.
Think BIG. As in a BIG calendar. I'm talking the old-fashioned kind you actually stick on a wall and look at every day. There's no chance of it getting lost on your desk under other papers, products, etc.
Try new things. Don't be afraid to try something new and outside of your comfort zone, and don't worry about dropping something that isn't working, even if you've spent significant time or money on it. However, remember that tracking can help prevent costly mistakes. This is a continuous learning process and mistakes are not only inevitable but ultimately helpful.