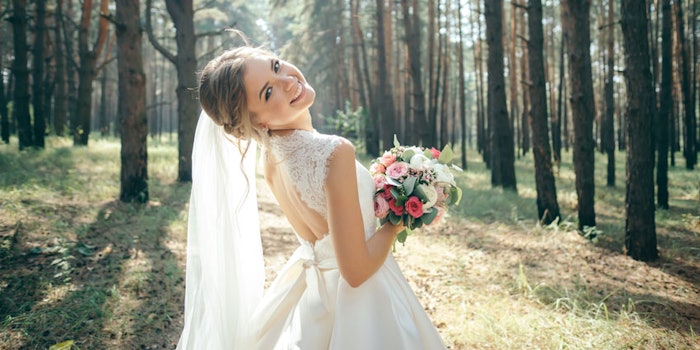 Many women have dreamed of their wedding day their entire lives. After their special man finally pops the question, feelings can quickly transition from elation to stress. With so many things to put together and so many people to make happy, planning a wedding can be quite overwhelming. At our best, we [estheticians] can relieve some of these tensions by taking the reigns of some of their beauty care needs and lead the bride, groom and even the bridal party into the wedding venue beaming with smiles from the confidence of knowing they do, in fact, look picture perfect.
More often than not, weddings are planned a minimum of six months out; more consistently a year in advance. This leaves ample time for estheticians to put a plan into place that will allow the professional to make any corrections or improvements necessary for assisting the bride and bridal party to look their best and feel confident on this monumental day and beyond. This is a time when both men and women alike want to look their best. They will put more emphasis on their beauty and wellness, spending a lot of time and resources leading up to the biggest day of their lives. 
Our job as the professional is to assist in this journey, while educating our customers on long-term self care that will continue to keep valued guests looking and feeling their best for years to come. There are three top services that I recommend both men and women receive professional guidance on in the months leading up to the wedding day. I suggest booking each of these services monthly, for a minimum of three months, prior to the big day. This allows time to improve upon the appearance of their skin as well as the shape of their eyebrows. 
1. Shining with Skin Care
I am preaching to the choir here when I say skin care is one of the most important and nurturing things we can do for ourselves. Preventing signs of aging, reducing acne, balancing skin tone and preserving even skin pigment are just a few concerns that our customers have when they walk in our doors.  
It is your job to seize the opportunity of having their attention and get to the bottom of their concerns in order to help rectify any issues they have with the services under our esthetic umbrella. I recommend providing the more intense treatments at least 60 days prior to the wedding to reduce any potential risks of an adverse reaction to any new stimuli or ingredients. In the month prior to the wedding, I always focus on a more spa-like indulgent facial that is filled with massage and uses more calming and nurturing ingredients. 
2. Shaping Up with Brows
When I first started as an esthetician, 99% of my first-time clients needed some sort of eyebrow correction. Over the years that number has decreased with the popularity of, and increased desire for, proper eyebrow shaping education. Even with my current eyebrow customers who do very little at home tweezing, I still find that little by little an extra hair or two may be missing when they come back in for professional eyebrow shaping.
Years into seeing an individual it is important to evaluate the shape of the eyebrow on each and every visit. Educate your customer on areas where you are making corrections or growing hairs in. Knowledge is power. The more they know about your eyebrow plan, the more they will trust it and you. 
3. Waxing Away Worries
Many weddings are often followed by a honeymoon. This is a great opportunity to introduce bikini, Brazilian and other types of body waxing to both your male and female customers. I find that most women who never thought about professional waxing will take a leap of faith at this time and trust her privates to a seasoned pro. Many men who have never tried ear, nostril or back waxing find this to be a good time to be more adventurous.   
Timing is Key
So, when should you start guiding your customers with your treatment recommendations? Immediately. Typically, we find out about an upcoming wedding very close to the time of the engagement, because the happy new fiancé is thrilled to share the news. This is exactly the time to start getting your game plan together and vocalize your recommendations. 
As professionals, we must remember why we got into this field. Hopefully it was because you believe in the services and home-care and what it can do for an individual's self esteem. When we are confident in both our abilities and our intentions it will be apparent as we make suggestions and provide guidance. 
The more time we have to improve upon the appearance of our guests, the better. If you have a year, use it. Most of the services you offer can be provided on a monthly basis and can vary from six-week to three-month intervals. Don't be afraid to talk frankly with your clients about what their time and budget will allow. There is always a plan that will fit into their parameters. 
Once you have a plan in place, both with services and retail suggestions for home care, make sure you pre-book your customers appointments. I would plan backwards from the wedding date, once the provider and the client together have customized the intervals of time that they are working with. I typically schedule their last service appointment one full week prior to the wedding. By receiving the services no more than five to seven days prior to their wedding day, the service results will still be in effect and you can avoid the busy week before the wedding day.