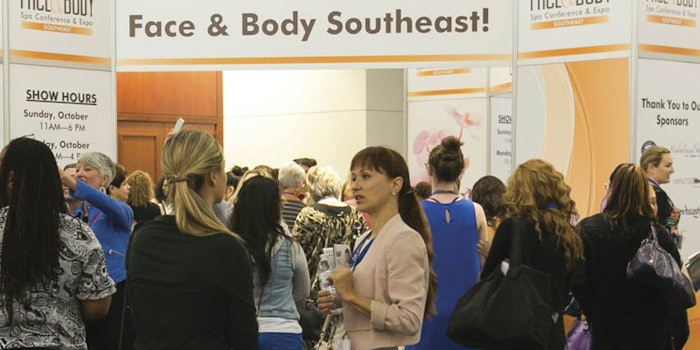 In 2016, Skin Inc. debuted its first-ever Face & Body Spa Conference & Expo Southeast in Atlanta to a group of spa industry professionals hungry for the latest trends, technology and science. We are pleased to announce that we are bringing the event back to Atlanta on Oct. 7-9, 2017. At Face & Body Southeast 2017, expect the same great education and exposition amped up for the second round with more exhibitors and plenty of new additions. So what's in store for you this year? Try more science, free opening keynotes, focused medspa education, an interactive education showfloor experience and melanoma detection certification, just to name a few.
Opening Keynotes (Free)
We want to get your blood pumping at the start of each day at Face & Body Southeast, inspiring you to tackle a day full of what we know will be important conversations and product
MedSpa
As the spa industry grows, the medical spa segment has boomed along with it. As we all know, the business and regulation of medical spas isn't the only differentiating point to a day spa. Treatments are different, equipment is different and it is important to stay on top of all of these aspects. Face & Body Southeast is upping its med spa game. We have teamed up with the American Med Spa Association to host the Medical Spa Summit, an entire day of medical spa training and education on Saturday, Oct. 7, 2017. The day-long training is an overview of medical spa success for current medical spa professionals or those considering entering the space. The content will address topics, such as business planning, legal mistakes, making more money, HIPAA, marketing and more.
Advanced Education
The Advanced Education Conference will be back at this year's Face & Body Southeast, but based on last year's attendee feedback, we are packing the day with more science. In addition to treatment and wellness/business tracks, expect both science and ingredients tracks to touch a number of topics relevant to today's skin care professional and spa owner.
Skin Inc. LIVE! Stage
Melanoma
Skin care professionals are responsible for the health of their clients skin, but they are also in a prime position to potentially save their client's life by spotting the signs of skin cancer. The Melanoma Foundation of New England will offer its Skinny on Skin certification course to teach estheticians and spa owners the ABCDEs of melanoma and give them the tools to discuss their concerns and send their clients to the right professional. "It's such an important cause because with melanoma, it's all about early detection and prevention, and is curable when it's caught early enough," said Meghan Rothschild, presenter and PR and marketing manager for the Melanoma Foundation of NE. Just make sure you sign up your spa staff early; The Skinny on Skin certification courses sold out at their debut at Face & Body Midwest.
Want more in 2017? Who doesn't. Visit southeast.faceandbody.com, and register for Face & Body Southeast to get more for your spa business this year. Tell them Skin Inc. sent you with promo code SKININC for an exclusive discount.