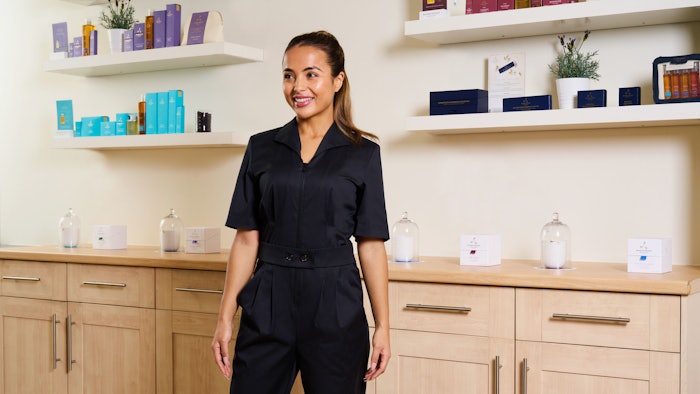 Photo courtesy of Fashionizer Spa
Aromatherapy Associates announced a renewed partnership with Fashionizer, a UK based spa uniform vendor. The collaboration between the companies can be seen as a reflection of Fashionizer Spa's value as a vendor of high quality, durable spa uniforms. 
Aromatherapy Associates' uniforms are worn by their trainers who work around the world. By using Sizer, an AI-powered body measuring tool, the company has been able to determine sizes for their staff all over the globe with no need for physical measurements.
Related: How Uniforms Impact Your Spa
Now, in 2023, Aromatherapy Associates have returned to Fashionizer Spa, and their latest choice is a customized jumpsuit in navy Eco Smooth, an innovative fabric that combines the benefits of organic cotton with the durability of Newlife PET and a touch of Lycra. Finished with Silverplus and soil-relief treatments to prevent odors, Eco Smooth is a blend of cutting edge and eco-conscious technologies.
"It was great to work with Debbie and her team again," said Christina Salcedas, Global Director of Education for Aromatherapy Associates. "They always make the daunting task of a new team uniform effortless. We chose Fashionizer Spa as we were delighted that even our uniform could align with our sustainability commitments."