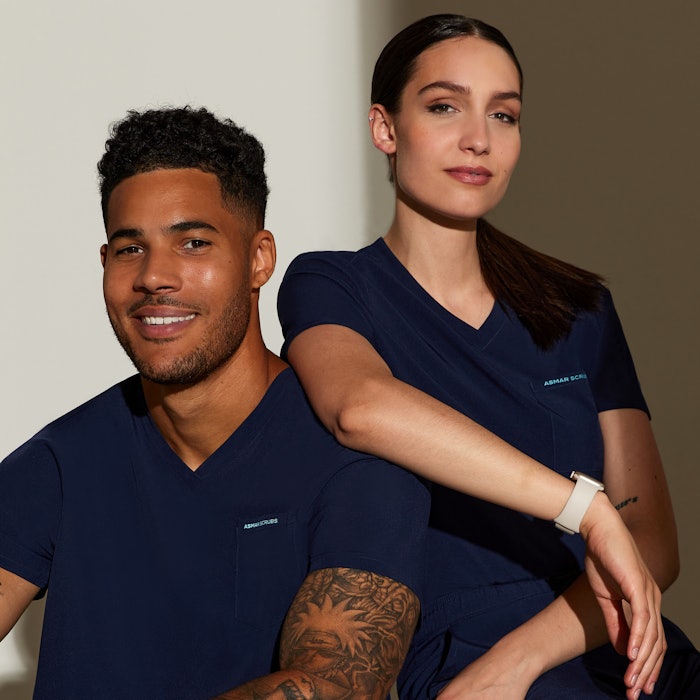 Photo courtesy of Noel Asmar Uniforms.
Noel Asmar Uniforms is celebrating their 20th anniversary with the launch of Asmar Scrubs, a new collection of eco-friendly uniforms designed to service the growing healthcare and medical spa market. 
The new collection will consist of styles for men and women in an extensive size range (XXS-3XL), and the tops and bottoms will feature an ample number of strategically placed pockets to keep essentials close for professionals.
The uniforms also offer badge tabs, reflective branding for safety, a water repellent finish to improve durability, quick-drying and fade and pill resistant.
Related: Noel Asmar Uniforms Launches App for Beauty Pros
"Uniforms have a huge impact on a practitioner's self-confidence. A polished, professional uniform garners respect. It builds trust. It's an identifier, a safety measure, and a way to communicate before an appointment even begins. They become a prominent part of a brand's identity and unite team members which trickles down to a client's perception and overall experience," says founder and CEO, Noel Asmar. 
The new Asmar Scrubs collection also focuses on sustainability, giving customers more eco-friendly options in the uniform space. The material used to make the garments, EcoSoftMD, is made from recycled water bottles which are crushed into pellets and then spun into fabric.
As a result, Noel Asmar Uniforms, and other brands under the group, have diverted over 1.4 million water bottle from landfills. EcoSoftMD is also Oeko-Tek and Blue Sign Certified. This certification confirms that the material has been tested to ensure it's free of harmful chemicals or components. 
Noel Asmar Uniforms has become the first spa, medical and wellness uniform company specializing in uniforms for an entire team, from practitioners and care providers, to front desk and reception.