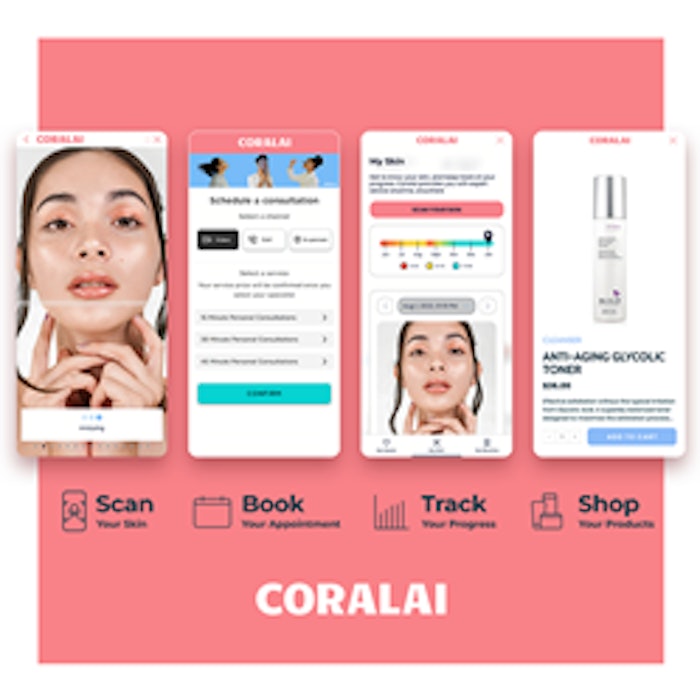 Photo courtesy of Coralai
Corpus Group, Revieve and Clientela announced the lauch of Coralai, the first multi-brand digital skin care retailer designed to provide users with products, routines, services and professionals through computer vision, artificial intelligence and smart booking for in-person and virtual appointments. 
Coralai is the first retailer to integrate Revieve's Skin Coach, which allows users to trace changes in their skin over time and build customized routines that adjust to evolving personal data and fluctuating environmental factors like pollution and UV index levels. 
Using Revieve's AI skin analysis technology, the website allows users to scan their face on either desktop or mobile and receive a "skin score" out of 100. The skin is rated based on nine different skin concerns: hyperpigmentation, melasma, smoothness, uneven skin tone, shine, radiance, dark circles, redness and dull skin.
The technology then allows users to complete a skin quiz asking more details about their skin, routine, life changes and product type preferences. Users can then sign up to receive a personalized product recommendation list for their skin concerns.
Related: Upkeep Secures $2 Million in Funding for MedSpa Platform
"Our partnership with Clientela and Coralai empowers clients with quantitative data to sort the optimal products and services, which are unique to the needs of their skin and personal well-being," said Sampo Parkkinen, CEO at Revieve. "The collaboration between the three brands will leverage innovative technologies and market expertise to create a one-of-a-kind digital experience that exceeds customer expectations in this competitive industry."
The collaboration combines Coralai's skin care retail ecosystem, Revieve's AI Skin Coach experience, and Clientela's omnichannel, customer relationship management and clienteling solutions.
With a roster made entirely of professional brands, the platform also offers estheticians an affiliate link that they can share with clients to receive 15% commission on sales. In addition to commission, estheticians receive 100% of the fee from digital appointments that can be made on the platform using Clientela.
The brands are collaborative work is transforming the skin and wellness category by offering personalized services, easy access to professionals and the ability to trach skin changes over time.