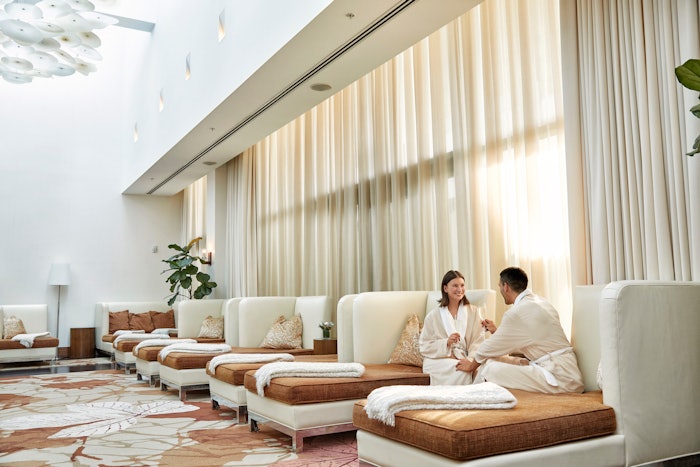 Photo courtesy of The Ritz-Carlton, Toronto
The Ritz-Carlton, Toronto announced its newly relaunched Spa myBlend  offerings (formerly, Spa My Blend by Clarins). The property is one of the four locations worldwide to carry the newly reformulated myBlend product line, as well as a redesigned service menu.
The spa is recognized for its personalized treatments, extensive fitness center and nutrition-based food and beverage offerings. Guests can experience comprehensive beauty treatments focused on expertly-formulated skin care and leading advancements in non-invasive esthetic technologies. 
Related: Sip of Wellness: 3 Offerings from Napa Valley Spas
"The redesign of myBlend brings cutting-edge advancements and a new level of personalization to our spa," says Maggee Byrd, director of spa for The Ritz-Carlton, Toronto. "We are thrilled to collaborate with our longstanding partners at myBlend to bring this vision to life in the (U.S.). We look forward to providing our guests with a suite of new offerings that combine powerful skin care formulas, technological innovation and expert techniques, customized to address each individual's precise needs."
As well as a new treatment menu, Spa myBlend will offer beauty experiences to its guests with advanced, gentle and non-invasive technologies. The myBlend CellSynergy device is used in each of the new services, and it allows the spa's trained estheticians to adapt each treatment to focus on areas of concern on the face and body including hydration, firmness, tone, fine lines and wrinkles. 
A combination of cryotherapy, ultrasound, and microcurrent energies are used to deeply penetrate and regenerate the skin. The myLEDmask, used in the spa's enhanced treatments, uses red and near-infrared LED lights to fight the signs of aging. 
Spa myBlend Treatments
Express Touch: Minimal time for maximum efficacy, this 30-min. treatment is designed for those who want visible results in as little time as possible. Each experience focuses exclusively on technology or expert manual techniques, boosted by the power of the myLEDMask.
Essential Touch: Focused on well-being and efficiency, this anti-aging treatment activates the skin by combining highly concentrated formulas with deep face remodeling, and cutting-edge technologies. 
Expert Touch: This luxurious facial treatment centers on well-being and steeps the skin in the regenerating power of light, with a gentle rebalancing belly massage to promote relaxation and help release tension.
The Harmonizing Body Treatment:

The service 

offers a moment of extreme relaxation, alternating between manual techniques designed to balance energy flows as well as relieve stress and areas of tension. The motions combine movements and vibrations to relax your entire body, creating the ultimate feeling of well-being.

The Energizing Body Treatment:

The service

 

combines energizing touch and radiofrequency to stimulate cell regeneration, activate microcirculation and tone tissue. These techniques also wake up the body, smooth the skin's texture and provide firmness and radiance.

myBlend Signature Experience:

 

Spa myBlend's highly concentrated formulas, powerful LED mask and technology are combined with intense sculpting to achieve outstanding results for the face and body.