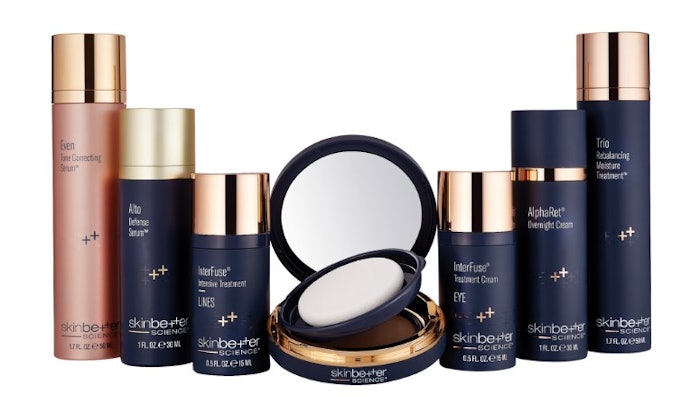 L'Oréal is acquiring Skinbetter Science, a physician-dispensed American skin care brand backed by dermatological science. The closing is expected to occur in early Q4 2022.
Skinbetter Science is known for formulating innovative products with active ingredients for anti-aging, moisturizing, cleansing, exfoliating, skin peeling and sun protection. 
Skinbetter Science recorded nearly $95 million of sales in the trailing 12 months that ended August 31, 2022.
The brand's leadership team will continue to run the business following the acquisition and will be integrated under the leadership of Christina Fair, president of the active cosmetics division within L'Oréal USA.
Myriam Cohen-Welgryn, worldwide president of L'Oréal's active cosmetics division, said, "Skinbetter Science is a perfect complement to the active cosmetics division's brand portfolio. It will contribute greatly to the L'Oréal active cosmetics division's long-standing mission to pioneer health and beauty with advanced science-based skin care innovations. I am confident this high-growth U.S. brand has great international potential."
David Greenberg, CEO, L'Oréal USA and president, North America zone, added, "We are thrilled to welcome the Skinbetter Science team to L'Oréal. I am confident the brand will strengthen our North America dermatological beauty business, an area that we believe has dynamic growth potential. Together with Christina Fair and our active cosmetics division, we see an opportunity to draw on the strength of the fantastic team behind the brand and reinforce the relationships of trust that they have built with their healthcare professional partners to take this part of our business to the next level."
Jonah Shacknai, founder and executive chairman of Skinbetter Science, said, "The entire Skinbetter Science team is excited to be joining the L'Oréal family. L'Oréal is the leading beauty company in the world and its extraordinary leadership, resources and international reach will allow us to maximize opportunities for medical aesthetics practices, patients and our Skinbetter colleagues. We are very proud of all we have accomplished as an independent brand and look forward to collaboration with such an innovative and socially responsible global organization. We genuinely believe there to be superb mission and values alignment between our companies."