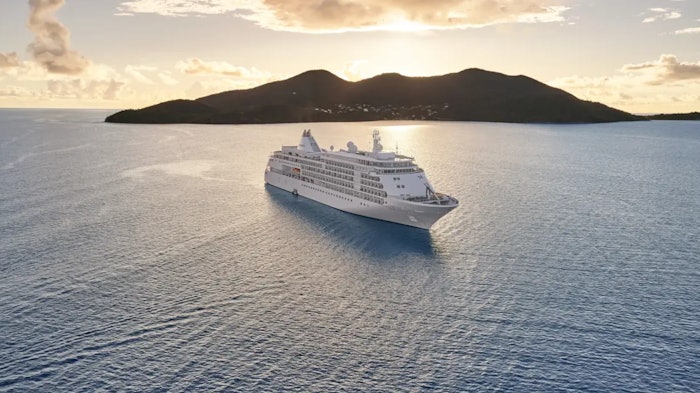 Silversea Cruises is debuting a new spa concept inspired by Ancient Roman culture, "Otium, the original art of comfort." The holistic spa experience was showcased on the Silver Dawn cruise ship as it sailed roundtrip from Lisbon, Portugal, per an article from Travel Agent Central.
Related:
In Ancient Rome, "otium" was a term used to describe leisure time for wealthy Romans who would lounge in villas and enjoy luxurious pampering throughout the day. The spa experience at Silversea Cruises attempts to recreate that experience, with the services designed to be a natural part of the guest's day.
Silversea guests sleep on a mattress infused with the essential oils of lemon, lavender and eucalyptus with bedding that includes 400-thread-count Egyptian cotton linens by Rivolta Carmignani. The sleeping experience is customizable, with a pillow menu that offers different customizable down and feather blends, memory foam, firm down and improved down alternatives.
Upon request, suite butlers will draw a candle-lit bath with Sicilian Sea salts, ambient music, champagne and gourmet snacks. Salt choices include orange blossom; amber, vetiver and patchouli; or fig and cedar.
The spa has regular treatment rooms and areas for couples. The interior relaxation area has steam rooms and saunas adjacent to the lounging area. The spa also features a thermal area and a fitness center near the spa with complimentary yoga and Pilates. For $119, guests can choose between the InBody 570 Composition Analysis or an hour-long personal training session.
The new Otium spa menu offers several signature treatments, adding four new 100-minute treatments to the cruise ship's typical spa offerings. It also offers Medispa cosmetic treatments ranging from Thermage skin tightening and microneedling to Dysport wrinkle treatments and Restylane dermal filler treatments.
The Eternal Youth Facial is designed to supercharge skin with bio-electric energy and sub-zero therapy. During the treatment, the eyes are targeted with cryosculpting to reduce puffiness and crow's feet. The treatment costs $349.
The Otium is a 100-minute signature treatment that involves drizzling fragrant oils infused with shea butter, raspberry and chamomile onto the body in sweeping movements. Mineral-rich pink salt stones, natural bamboo and calabash are then used to stimulate skin and release tension. The treatment costs $399.
The 75-minute Roman Bliss Massage is designed to restore mind-body balance. It includes a back exfoliation followed by a massage to release stiffness and aches, while feet are cosseted in warm booties. It costs $299.
The spa also offers an acupuncture session, a herbal medicine consultation, nail services, salon services, teeth whitening and men's grooming options.
The Hedone Manicure and Pedicure treatment combine a 45-minute manicure with a 60-minute pedicure, priced at $79 and $89 respectively. The 55-minute Emperor's Chair men's grooming service provides a double-close shave; scalp, face, hand and arm massage; eyebrow trim and warm neck wrap for $129.