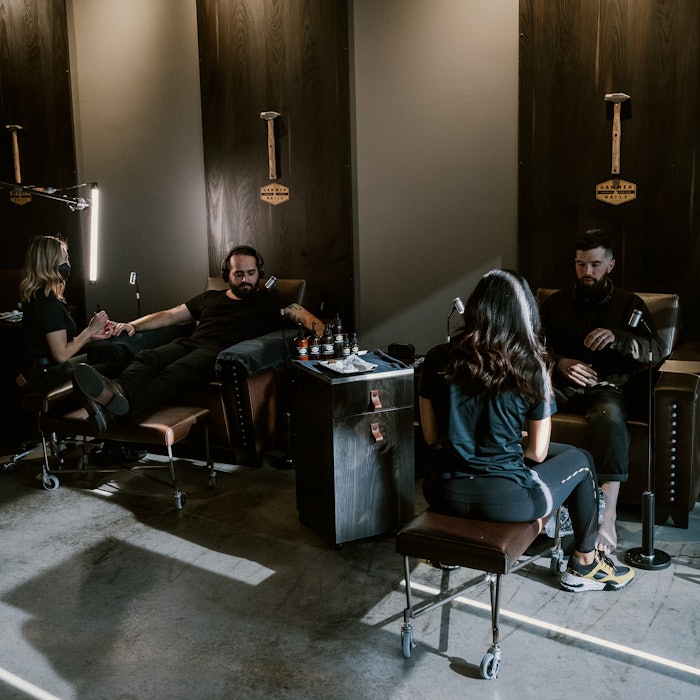 Hammer & Nails is opening a new franchise location in Midtown Atlanta during Q1 2022, owned by Atlanta natives Lorenzo Jackson and Tarris Scott. It is the first Hammer & Nails shop in Georgia.
Related: Lashes by Gab to Open Second Location in Saucon Valley, Pa.
Hammer & Nails offers a unique grooming experience with a focus on atmosphere and experience. The shop has soft ambient lighting, tinted exterior windows and a dark wood and steel décor. Members sit in an oversized Bison leather chair with a personal TV, remote and noise-canceling headphones for entertainment during the visit. The shop offers a menu with complimentary beverages from ice water to whisky.
Jackson and Scott discovered the male grooming-focused Hammer & Nails brand on an episode of Shark Tank.
Scott said, "Lorenzo and I have been friends for decades, and after looking for our next business venture we knew Hammer & Nails was for us. Midtown is a bustling part of the Atlanta area with a lot of new businesses setting up shop, but nothing like Hammer & Nails exists making it the textbook area to open the brand. Additionally, as a teacher, this endeavor helps show other educators there can be another future beyond the classroom and retirement."
Jackson said, "We cannot wait to get our doors open and start offering grooming services to the men of Atlanta. With Midtown being a busy part of the area, about a block or two from Georgia Tech University and surrounded by high rise condos and high foot traffic, we can't wait to be the oasis for men to get away from their busy lives and indulge in essential pampering and relaxation."
Jereme Shelton, vice president of franchise development, Hammer & Nails, said, "We are thrilled to have Lorenzo and Tarris bring the first Hammer & Nails location to the state of Georgia and join our brand during such a key moment of growth. Offering hand and foot care and grooming services all under one roof is sure to revolutionize personal care in the Atlanta area. We know with the brand's trendsetting atmosphere and unique service offerings; this new shop will surely become a community staple. Men in Atlanta will have never looked or felt better."