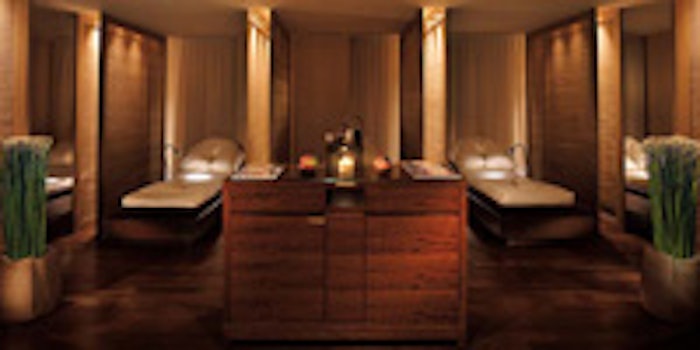 Sheraton's global spa concept, Shine for Sheraton, has launched as part of a $6 billion effort by Starwood to globally revitalize the Sheraton brand. Developed exclusively for Sheraton by Starwood Hotels' in-house spa team, the comprehensive solution includes concept, signature treatments, design, development, operational and marketing tools. In collaboration with Shine's preferred product partner, Germaine de Capuccini, each spa will offer five signature treatments including a facial, a massage, and a treatment for two. Interiors will use warm creams, browns and gold as well as accents of cobalt blue, tourmaline and coral. Throughout the spa, materials with innate shine will be used in homage to its name, such as marble, onyx, high gloss mahogany and glass. The in-house brand, which first debuted in the Maldives in June 2009 as a spa branding solution for the group's Asia Pacific division, is currently available at select hotels in China, Vietnam and the Slovak Republic. A further 12 openings are scheduled over the next 15 months including at the Sheraton Beijing Dongcheng and the Sheraton Yantai Golden Beach. Further spas are also planned for north and Latin America. (From www.leisureopportunities.com)
The St Regis Mauritius resort will open in 2011 complete with a Remède Spa. Located on the southern tip of Mauritius within the UNESCO World Heritage site of Le Morne, the resort will boast 174 guest rooms with terraces. The property is being designed in a traditional colonial style, complete with handcrafted furniture as well as a number of contemporary touches. (From www.leisureopportunities.com)
A 30,000-square-foot luxury ESPA spa is to open at The Palmyra resort, in early 2011. Housed in a separate building, the spa is being created in consultation with ESPA and will feature 14 treatment rooms including two private couples suites and nine multi-functional spaces with showers and outdoor balconies. Other amenities will include experiential rain showers, a tea lounge, vitality pools with ocean views and a relaxation terrace. The Palmyra is located on 16 oceanfront acres, on the grounds of a former plantation. It will include 299 bedrooms as well as suites. (From www.leisureopportunities.com) in Montego Bay, Jamaica
In celebration of its first anniversary, a new treatment has been added to the menu at the Six Senses Spa at the Etihad Airways First and Business Class Lounge at Heathrow airport, United Kingdom. Called Hedonist and available from the beginning of October 2010, the 15-minute deep scalp massage has been designed to release tension and promote the flow of energy in the body by focusing on specific acupoints. In addition to the new treatment, there is also a range of other complimentary therapies on offer.(From www.leisureopportunities.com)
Catherine de Villiers has been appointed spa manager of von Essen's Hotel Verta, the group's first London-based property. Opening on Sept. 12, 2010, Hotel Verta is being marketed as the first integrated hotel heliport solution in Europe while the Spa Verta within the hotel has been designed as an urban spa experience and includes five treatment rooms, thermal areas and a vitality pool. De Villiers joins von Essen with more than four years' experience in the hospitality industry, most recently as assistant manager at The Langham, London hotel, also in the UK. (From www.leisureopportunities.com)
A second Jari Menari massage center has opened in the Nusa Dua area of Bali, Indonesia. The original Jari Menari massage and training centre in Bali opened in 2001 in the heart of Seminyak. Translated as 'dancing fingers,' Jari Menari massage offers strong, firm and consistent pressure to those wanting to learn massage, based on a nine-step, oil free sequence. The new Nusa Dua property is open seven days a week and is staffed by all-male practitioners. Each treatment room is open in design, to allow as much fresh air and natural light into the space as possible. As well as the signature dancing fingers massage, a range of other treatments are available including a four-hands therapy, massage sessions for children, a cool stone massage using aloe gel and a flower bath in an outdoor area, which is recommended for post-treatment relaxation. (From www.leisureopportunities.com)
A new luxury hotel and spa called The Oitavos debuted on schedule on September 1 in Portugal. The property is set within the Quinta da Marinha Original estate and is surrounded by sand dunes and pine trees. Drawing inspiration from the ocean in both its design and menu, The Oitavos spa has a contemporary design that features sleek lines and panoramic windows intended to focus attention outwards to its dramatic natural surroundings. Facilities include 10 treatment rooms, an indoor and outdoor seawater pool, plus a sauna, steam room and whirlpool. There will also be a spa garden area for guests to be able to practice yoga in a private cabana. The ocean theme will carry through to the treatments, which will include sea salt exfoliations and scrubs, a seaweed and algae wrap and a range of anti-aging therapies. The spa will exclusively use organic spa brand, Voya. (From www.leisureopportunities.com)
In response to guests' increasing interest in a genuine, unique travel experience, Hotel Caesar Augustus on Capri is now offering a new signature massage at the cliff-side outdoor massage area, overlooking Ischia and Mount Vesuvius. The "Essence of Capri" treatment features Maggiorana, an herb commonly used in Italian cuisine, which grows in the wild on the cliffs around the hotel. Essential oils, known as "Origanum majorana sommità fiorite" are drawn from the leaves of the Maggiorana and then combined with additional special oils for the massage.
The Bali Hai Resort and Spa near Cable Beach in Broome, Australia has unveiled a new menu and Balinese-inspired spa range. The menu includes a range of new treatments including a bamboo fusion massage and foot ritual. The new spa range blends lime and coconut and includes a hair cream and a massage oil.(From www.leisureopportunities.com)
In celebration of Thanksgiving, guests visiting Marquis Los Cabos in Los Cabos, Mexico, during the month of November will be treated to a lavish complimentary Cranberry-Infused Chocolate Body Wrap when they book a 4-night stay at the 237-suite beachfront resort. The 60-minute Thanksgiving-inspired spa treatment consists of a body exfoliation with essential oils such as masala synergy, cinnamon, clove, ginger and brown sugar; a cranberry-infused chocolate wrap, and a relaxing massage with chocolate body lotion. A post-treatment snack of chocolate-covered strawberries and cranberry juice is also included. The main ingredients used in the treatment are filled with vitamin A, C and E, antioxidants all known to purify the body and increase well-being.
A new Influence of Shiatsu body massage will be added to the spa menu at The Peninsula Tokyo spa by ESPA from September 2010. Designed exclusively for the Japanese hotel spa, the new massage was created in collaboration with shiatsu lecturer and practitioner Rosamunde Jordan and is intended to help enhance the body's Qi, restoring equilibrium.(From www.leisureopportunities.com)
Westin Hotels & Resorts continues the global expansion of its signature spa brand, the Heavenly Spa by Westin, with the debut of a new Heavenly Spas at The Westin Siray Bay Resort & Spa Phuket. Each Heavenly Spa features signature treatments and experiences aimed at mind-body wellness and revitalization, including unique programs that reflect local culture and customs. The Heavenly Spa at the Westin Siray Bay Resort & Spa Phuket opened its doors Aug. 11, 2010. Six spa treatment rooms and two spa suites are spacious and thoughtfully named after the seven pillars of well-being: beauty, life balance, harmony, aqua, vitality, nature and nutrition. Designed with the very latest in wellness and relaxation therapies and equipment, treatment rooms include Thai style massage beds, Ayurveda wellness rooms, Vichy showers, and custom made treatment beds, incorporating elements of sight and fragrance into the face cradle allowing guests to slip into deeper relaxation. Local products and methods are incorporated into spa treatments like the "Luk Pra Kob," a steamed Thai herbal ball with bergamot, pandan, tamarind leaf, camphor and turmeric used to relieve muscle tension and stress, as well as virgin coconut oil known for its nourishing properties for the hair and scalp.
A 2,073-square-foot spa has opened at the Porta Hotel in Antigua, Guatemala. The Ceiba spa features a garden-like entrance and treatment rooms with ancient stone. Intended to feel colonial and antique, the spa also includes four treatment rooms, a temazcal patio and infra-red saunas as well as a couple's suite.(From www.leisureopportunities.com)
Following a $46.9 million investment, a luxury new destination health spa is nearing completion in Thorpe Hall manor in Thorpe-le-Soken, Essex, United Kingdom. Called Lifehouse, the facility will be located within 135 acres of grounds, including 12 acres of historic, listed gardens. Lifehouse will open in December 2010 with 100 guest bedrooms as well as 35 treatment rooms. Other facilities comprise a thermal spa area, a swimming pool and an outdoor fitness circuit. Babor products will be used in spa therapies.(From www.leisureopportunities.com)