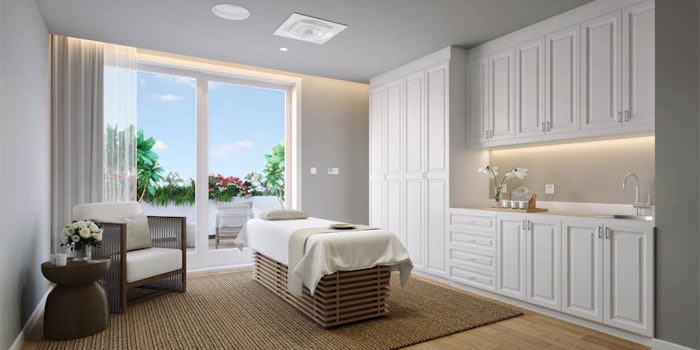 Aurora Anguilla Resort & Golf Club in the Caribbean announced the opening of Sorana Spa, a 12-room luxury spa at the resort. The spa's signature treatments are its six wellness journeys designed in collaboration with Subtle Energies.
Related: Top Spa Trends for 2022
Sorana Spa offers a collection of treatments personalized for each guest, including 24k Gold Age-Defying Facial, beach stone massage and Ocean Skin Brightening Ritual. It also offers treatments for hair, nail, scalp, and eyes.
Some amenities at the spa include a fitness studio, beach boot camps, guided meditations, high-intensity interval training and more.
Sorana Spa's six wellness journeys are intended to treat multiple skin and body issues while empowering physical, mental and emotional wellbeing:
Empowering Me, a Woman's Journey, includes gentle meditation, a full body massage and a facial.
Subtle Energies Sleep Therapy is based on clinical research and traditional practices to assist with sleep.
Indulgent Beauty is designed to unwind the mind and replenish the skin.
Renew & Revive includes a mineral-rich aromatic foot soak, full-body exfoliation and a combination of massages to awaken the skin and drain the lymphatics.
A Gentlemen's Day is a customized treatment journey intended to boost immunity, improve muscle strength and restore healthy skin.
Detox and Adrenal Boost uses Tulasi, wild turmeric and Indian lime to purify the blood and stimulate the cells and lymphatics while relieving adrenal fatigue.
Along with Subtle Energies, Sorana Spa partnered with Biologique Recherche and OSEA for its skin care products. Sorana Spa is the only wellness experience in the Caribbean to offer treatments from these partners.
Stephanie Hensel, spa director of Aurora Anguilla Resort & Golf Club, says, "We are excited to introduce a wellness experience that is grounded in physical, spiritual and emotional revitalization. Each element of Sorana Spa has been specially designed to set a new bar for wellness within the Caribbean. We have taken special care in selecting our partners, ensuring that each present something completely unique to the destination. We look forward to delivering rejuvenating, transformational experiences."