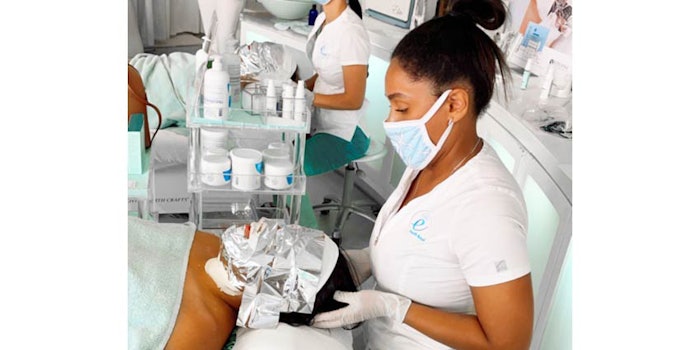 Repêchage is launching a new facial treatment—Hydra Dew Pure Facial—at Spa E in Miami. The 60-minute facial incorporates products from the Hydra Dew Pure Collection for dry, compromised skin.
Related: Sequential Skin Announces $1.65M in Funded Investments
The Repêchage Hydra Dew products included in the facial are its Facial Moisturizer, Essence Mist, Cleanser, Eye Contour Cream and Night Cream. The products are formulated with mastic water from the Aegean Island of Chios, camellia japonica seed oil, seaweed extract and other botanical ingredients.
Lydia Sarfati, founder and CEO of Repêchage, says, "It was such a pleasure to once again work with our long-time friend and business partner, Brenda LeGrange of Spa E in South Beach, Miami. We are finding more and more people coming to the spa of all ages that have skin that has been visibly compromised by environmental aggressors such as pollution and UV light, microdermabrasion, chemical peels and other aggressive treatments. It was important to introduce this professional facial featuring the latest ingredients and technology to the leading Miami beauty insiders to demonstrate how everyone can benefit from this treatment."
Brenda LeGrange, owner of Spa E, says, "What a pleasure to have such vibrant and game-changing guests at the Spa for the launch of the new Hydra Dew Pure Facial for Dry, Compromised Skin. It was such an honor for us to be able to provide our distinguished guests with this incomparable treatment. Our skilled aestheticians worked their magic as always, but with the unique opportunity to do so under the guidance of the treatment's very own creator (Sarfati) who expertly took consultations and made adaptations for every skin type, as she deemed necessary."