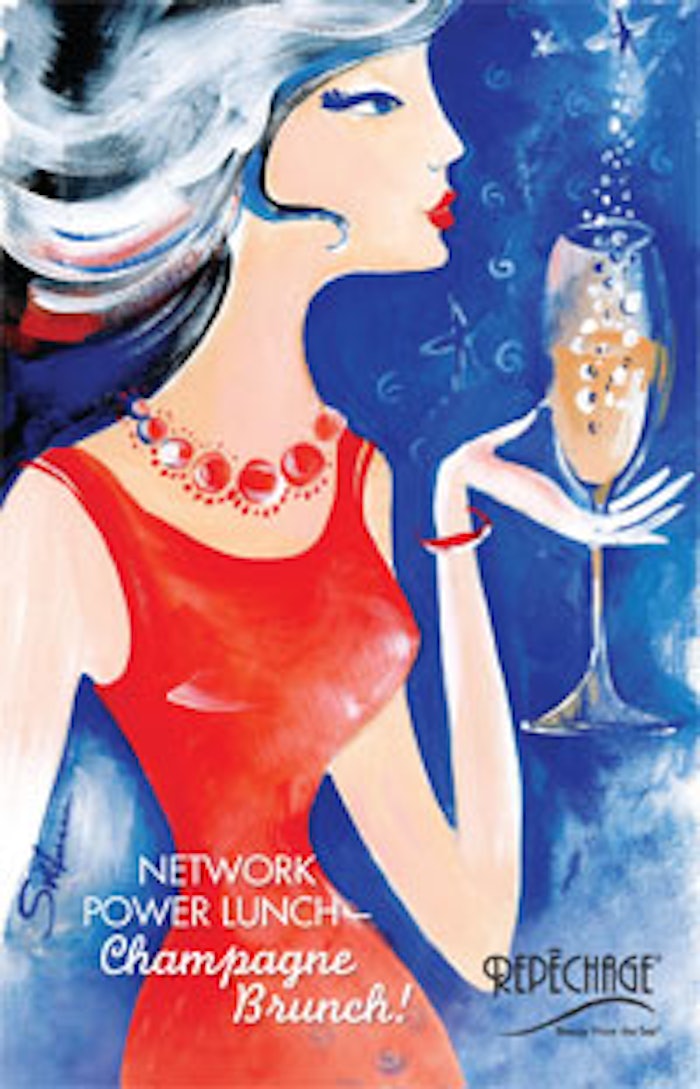 December 9, 2013 from 11AM–4PM Repêchage will be holding the annual Network Power Lunch—Champagne Brunch at the Lydia Sarfati Skincare Academy in Secaucus, New Jersey. Repêchage CEO and founder Lydia Sarfati will host the event, and several guest speakers will be in attendance. This event is catered to all beauty industry professionals including salon and spa business owners and skin care educators, to help better their spa business for 2014. Come join Repeĉhage for a fun-filled and enlightening day that you won't want to miss out on!
Hosted by: Lydia Sarfati—CEO and Founder of Repeĉhage, Ltd.
Sarfati is an internationally recognized skin care expert quoted in Vogue, InStyle, Glamour and The New York Times as well as featured on CNN, CBS and Fox. She has over 30 years experience as an esthetician, spa owner, manufacturer, consultant and is the author of Success at Your Fingertips: How to Succeed in the Skin Care Business. She has contributed to the elevation of the esthetics field in the United States and abroad, and has been appointed honorary chair of EstheticsAmerica, CIDESCO USA and is the Skin Care & Spa Council Director of Intercoiffure North America.
Special guest speakers:
"Avoiding a Government Shutdown—What Spa and Salon Professionals Need to Know About Employment Law," will be presented by Attorney Christine Sensenig. Sensenig practices employment and labor Law. With over 17 years of experience, she writes handbooks for employers and conducts training to assist with educating supervisors and employees about their rights and responsibilities under various federal, state and local laws. She is a founding partner of the Sensenig Law Firm, formed in 2003 and a proud University of Florida Law graduate. She was named a "Florida Legal Elite Attorney" by Florida Trend Magazine in 2009, 2010, 2011 and 2012. In addition to her Juris Doctor, Christine hold a bachelor of arts degree in humanities, a bachelor of arts in english education, and a masters of liberal arts.
"Adapting & Reacting—Trends to Improve Your Bottom Line," will be presented by Lois Christie, CEO and hair color director of Christie & Co. Salon & Spa, and president of Intercoiffure America/Canada. Christie & Co. Salon is one of the largest and most prestigious salons in New York City. Christie has been acknowledged by the Mayor as one of the most successful business women in Queens. She is an award-winning beauty industry business woman and lecturer. She was recently elected as the first woman president of Intercoiffure America/Canada, an international organization representing the best salons worldwide.
"Passion & Purpose—Elevating Your Business and Giving Back," will be presented by Jack Panico, owner of Panico Salon & Spa. Panico, a 28-year veteran of the beauty industry, is not only a high-end beauty expert and top industry leader, but also president and CEO of four prestigious salons and spas in Ridgewood, Oradell and West Caldwell, New Jersey, as well as South Beach, Florida. He travels the country as a trusted consultant for both elite manufacturers and private salon and spa owners. Always striving to take his business to the next level, he is a true pioneer in this ever-changing field.
To RSVP, contact Jenny Elias at 800-248-7546 x210 or [email protected]. For more information on Repeĉhage, visit www.repechage.com, and to register for this event visit To register for this event, visit: www.repechage.com/lydia-sarfati-academy-class.asp?rnID=12D1POW&durID=116.