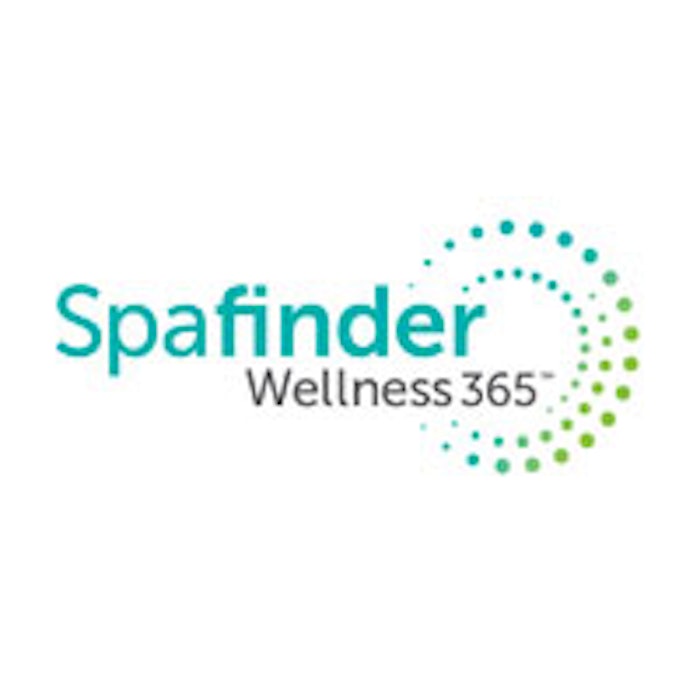 Spafinder Wellness, Inc., the largest media, marketing and gifting company for the spa and wellness industry, today introduced its evolved brand, Spafinder Wellness 365, a comprehensive resource created to help people feel good and live well all year round. Featuring over 20,000 fitness, wellness and spa partners worldwide, the innovative new platform at Spafinder.com is designed to inspire people to find their own path to wellness by providing unparalleled access to experiences, influencers, tips and trends.
The tagline "Live Well All Year Round," coupled with the addition of "365," signals Spafinder Wellness' evolution from a 25+-year-old spa authority and service-oriented website, known for its expertise in global spa travel and widely distributed gift cards that are available in 70,000 retail outlets, to a lifestyle brand that was created to make living well easier and more accessible each and every day. Spafinder Wellness 365 can be found at spafinder.co.uk in the United Kingdom; and at spafinder.ca in Canada.
"We believe that keeping well is not a luxury, but a necessity to live your fullest and best life possible," said chief brand officer Mia Kyricos, who led the company's brand evolution. "In today's world, living well can be a challenge, and our research shows that people are seeking help while pursuing their own unique paths to wellbeing. Spafinder Wellness 365 was created to be their partner—to give people the inspiration, ideas and options to do just that—and this is just the start."
According to the "Truth About Wellness," a global study conducted by McCann Truth Central, 57% of survey takers wish they had more support in leading a healthy life.1 In a recent Spafinder Wellness 365 online survey designed to gauge consumer preference, the five wellness components that seem to matter most to its customers include: spa and beauty, fitness and movement, food and nutrition, travel and tourism and preventative and alternative health.2
Kyricos noted that consumers who visit the company's websites will find an array of resources to help them get fit, get relaxed, get away, get pampered, get a gift and get a deal. Enhanced Spafinder Wellness 365 capabilities include:
Expanded lifestyle content—staff editors and well-known experts in the global spa and wellness field provide new editorial content to help people feel good and live well every day;
Geo-targeting—tracks user location and directs customers to top local offerings, such as Spafinder Wellness 365 Last Minute Deals;
Fresh video content—how-to videos hosted by expert contributors create a sense of community with recipes and tips for healthy eating, DIY spa treatments and at-home fitness videos;
Mobile access—enhanced mobile capabilities provide easy and instant access; and
Easy-to-use site design—new design showcases all content categories, making it easy for visitors to find tips and trends, from healthy eating to ways to de-stress and simplify life.
The company plans to continue the expansion of its online community and will roll out additional features and new technology over the next year.
"Spafinder Wellness 365 is about more than just spa. Thanks to our partner locations, we have built the world's largest spa and wellness network; now it is time to become a household name and be a brand people can love and engage with every day. We know that to feel good and live well means different things to different people—our ultimate goal is to be the world's best resource to help people feel good and live well all year round. It can be as simple as making time for a massage, taking a fitness class, visiting with a nutritionist or trying a new recipe," said Kyricos.
In honor of the Spafinder Wellness 365 brand evolution, the company is sponsoring a sweepstakes on its websites for luxurious spa getaway and $1,000 cash in exchange for consumer insights via the survey.
References
Based on 2013 quantitative research of 7,000 consumers in the United Kingdom, United States, Japan, China, Turkey, South Africa and Brazil.
Spafinder Wellness 365 Consumer Insight Survey of 3,000 respondents, October 2013.
About Spafinder Wellness, Inc.
With over 25 years of experience as a spa and wellness authority, Spafinder Wellness, Inc.® guides the industry, partners, consumers and employers with the most comprehensive resource for wellness-related products, services and insight in the marketplace. Millions of people find inspiration to keep well every day via the Spafinder Wellness 365(TM) brand, also known for its widely distributed gift cards available at 70,000-plus retailers worldwide and a global network of 20,000-plus spas, salons, fitness, yoga and Pilates studios and travel destinations. Learn more at spafinder.com, spafinder.co.uk and spafinder.ca.