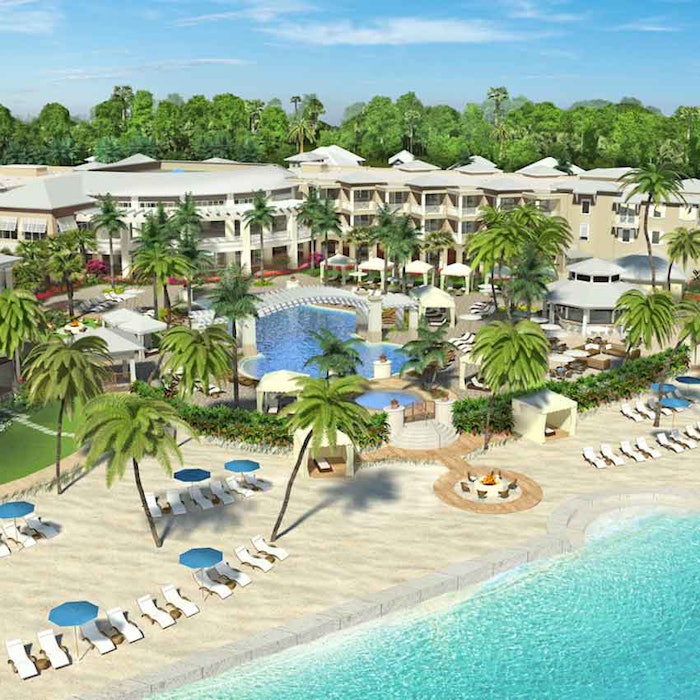 The Ocean Spa is generating a lot of "firsts," and it's not yet open. Designed by WTS International at the Marriott Autograph Playa Largo Resort and Spa, it's the first new build in the Florida Upper Keys in over 20 years. Plus, it will be the first full-service spa in the Upper Keys. The property, co-owned by Shaner Hotel and Prime Hospitality Group, is also the 100th Marriott Autograph location.
"With Playa Largo, we have the opportunity to bring a new level of beauty and wellness to the island and its visitors. It's a unique spa which provides guests with authentic, local spa experiences," said Susie Hammer, WTS vice president of spa operations.
An Island Experience
The 6,000 ft2 Ocean Spa will feature five treatment rooms, a couple's treatment room, a co-ed lounge, a 1,500 ft2 fitness center, and a hair and nail salon. Inspired by Playa Largo's seaside location, the treatment menu incorporates high-end, marine-based products and natural flora to make services such as the Tropical Body Glow, a 90-minute scrub to exfoliate the skin followed by an aromatic massage with coconut and pineapple shea butters.
Other treatments to be offered will include the Mojito Salt Scrub, a Coconut Sugar Scrub and the "Awaken" Coffee Scrub—all made with locally sourced, organic ingredients.
"From the warm welcome and customized experiences, to enjoying refreshing mango or hibiscus tea, to the tropical, ocean-inspired services, our guests will enjoy an island spa experience like no other," said Caroline Wilmot, spa and wellness director.
Spa Operations
Wilmot will operate the spa in-house under the guidance of WTS. She will oversee the development of all Ocean Spa's wellness programs, as well as creating spa treatments, managing the salon, the fitness facilities, kids club and spa personnel, as well as running the day-to-day operations.
The spa is set to open with the resort later in 2016.