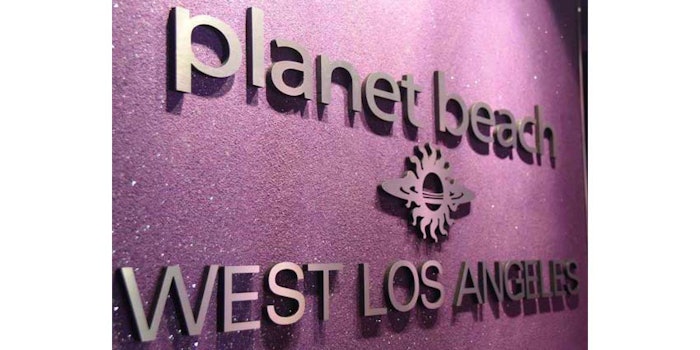 Planet Beach has debuted in Los Angeles with its fully automated spa offerings. The spa offers a host of automated skin treatments, including a stand-up spray tan booth, LED teeth whitening, meditation system with infrared heat, shiatsu massages, a massage bed with infrared heat, a slimming red light therapy booth, a facial bed, a red light therapy bed and an infrared sauna.
Owned and operated by Kelly Dedman and celebrity makeup artist Cool Benson, Planet Beach also offers skin care, nutrition and tanning products formulated to work in conjunction with its spa menu.
"Beachers rave about our infrared and LED-based red light therapy for the face and entire body," said Benson.
The Jade Lounge, for example, is a meditation system using infrared heat that incorporates real jade stone to relieve tension and stress. DreamWave and Flex Stretch are both shiatsu-style massage chairs, meanwhile Andullation is a massage bed with infrared heat to help expand blood vessels and improve circulation.
Skin treatments include Beacher's Angel Red Light Therapy, a stand-up booth utilizing Vibra-shape technology to tone muscles, improve circulation and reduce cellulite. Hydrate Beach is a lay-down bed with oct-fusion technology combining radiant heat, vitamin infused steam, massage, super red lights and natural aromas to cleanse pores and reduce fine lines. In addition, pbRenew is a  light therapy for the face to create a younger and healthier glow.
Finally, the company has Hot Box Detox, an infrared sauna containing a virtual instructor that guides participants through a 30-minute isometric routine of stretches, poses and postures.
Beacher memberships are available for $59/month, and first-time clients are able to revel in any Planet Beach treatment for just $10.