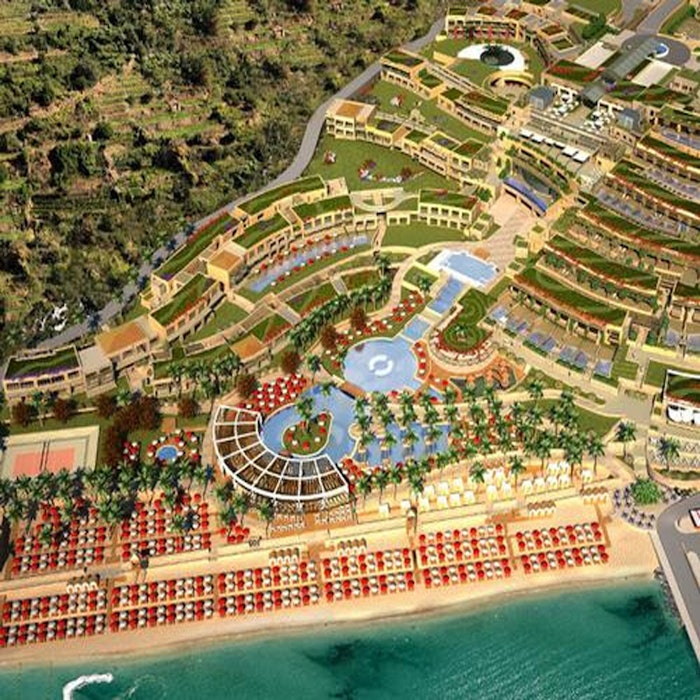 Greece's Miraggio Thermal Spa Resort is set to open in May 2016 with a 32,291ft2 thermal spa. The resort is set on a peninsula in Halkadiki, surrounded by the Aegean sea.
The spa will feature five multifunctional rooms, one double treatment room, two VIP suites, one VIP lounge, a fitness center and a welcome area. But that is just the beginning, as the water amenities in the thermal spa about.
First, there is a large thalassotherapy pool that is fed directly from the Aegean. The spa also has and four separate thermal pools that use waters of the region. In addition to a herbal sauna and a Finnish sauna, there is also a floating sauna in the marina, where guest can cool down afterwards in the sea.
To experience more of nature, there is a cold plunge walking path with two experience showers and Rasull mud treatments. Steam baths are available in the thermal well-life suite, and guests also can choose from a tepidarium, flotation beds, vichy showers, a Turkish hammam, three swimming pools and more.
Thermal pools: Top 10 Spa & Wellness Trends Spanning the Globe
The spa will also be ungergoing a second phase, which will include the opening of the medical wellness section and additional hydrotherapy and spa treatment rooms, in 2017.