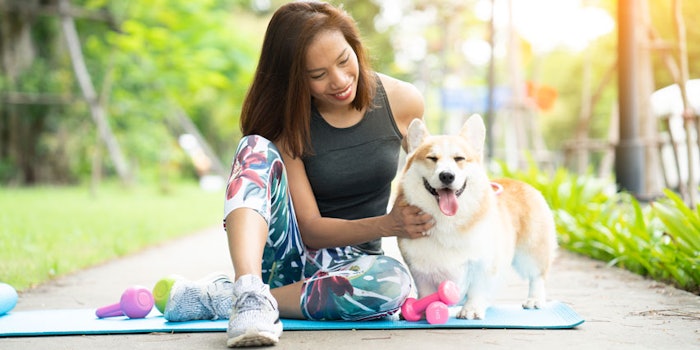 Sunrise Springs Spa Resort in Santa Fe, New Mexico, and Assistance Dogs of the West (ADW) gives guests the opportunity to play with puppies while helping to train the dogs to become future service dogs. They have six total classes that all deal with animal interactions, with four of those classes specifically dealing with puppies.
"There's a lot of science behind why the animal human bond is so effective. It gives you a sense of security and safety. It also lowers your blood pressure; it lowers your cortisol levels...It increases your oxytocin, which makes you feel really good and elevated. Just being with puppies makes you feel a lot happy, a lot calmer. It gives you a sense of well-being," explained Linda Milanesi, executive director of ADW, in an interview with the Sunrise Spring Spa Resort.
Puppy Programs
The programs and experiences that the Sunrise Springs Spa Resort provides guests include:
Puppies: Heart Opener: Take time to relax and spend time with a puppy to help reduce coritsol levels and blood pressure.
All About Assistance Dogs! Engage with the energetic puppies, while helping to prepare them to become future service dogs.
Upbeat Canine Play. Be guided by the canines in agility activities including hide and seek, mindful walking and more.
Puppy Preschool. Connect with the puppy in whatever way speaks to you. You can teach them a new skill, cuddle and snuggle or play a game.
More Animal Interactions
The Sunrise Springs Resort and Spa doesn't stop at these programs with the ADW, though. They also have a few programs and activities of their own accord implemented into the resort, including the following offerings with chickens.
Silkie Chicken Play: Allow yourself to embrace the chickens for how they are by experiencing their energy, noises and lightness.
Connecting with Silkies. Embrace a Silkie chicken, with feathers as soft as fur, close to your heart and let yourself calm down. There are also options to feed a chicken or, based on your comfort level, simply be in the presence of them.
There is also an Animal Communication Experience (50 min., $119) with Claudia Mardel, who, in a private session, will act as your translator to communicate with your pet. All of these treatments can be stand alone experiences or tacked on after other spa and wellness treatments they offer including meditation, yoga, therapeutic massage or facials.