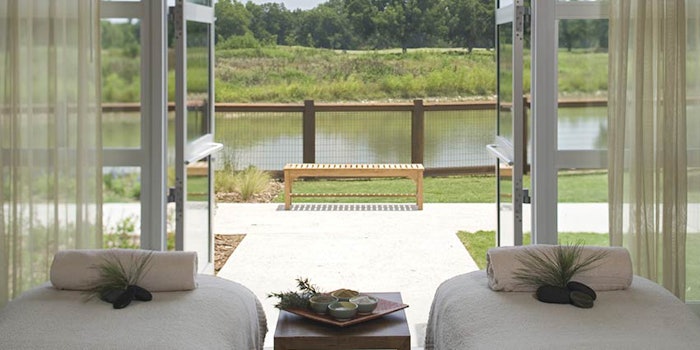 Whether you're looking for romantic, restful or both, Hyatt Regency spas in the Southwest are giving guests myriad ways to spend their Valentine's Day.
Heart and Soulmates
Spa Django, at Hyatt Regency Lost Pines Resort & Spa just outside of Austin, Texas, will offer the "Soulmate Sunset" treatment. The two-part experience begins with an hour-long side-by-side customized messages in the spa's duet suite. Following the treatment—after the spa officially closes—couples receive an hour of R&R to enjoy the spa's relaxation room, heated outdoor pool and patio, or use the saunas, whirlpools or steam rooms. Guests also receive chocolate-covered strawberries and champagne.
And the chill session doesn't have to end at the hotel—throughout the month the spa will offer a Valentine's Day take-home amenity set, featuring two plus robes, travel-size bottles of its signature body wash and lotion, two reusable water bottles, two rejuvenating eye masks and a candle.
True Romance
Calling all Jane Austen fans: The Hyatt Regency Tamaya Resort & Spa in Santa Ana Pueblo, New Mexico is taking a traditional approach to romance.
On Feb. 14, 2019, the resort will offer horse-drawn carriage rides every 20 minutes between 5:00 pm and 7:00 pm, including complimentary champagne. Guests can follow their ride with a four-course, prix fixe dinner at the Corn Maiden restaurant.
Valentine's treatments at the Tamaya Mist Spa & Salon will be offered throughout the month, such as the side-by-side "Couple's Romance Ritual." During the 110-minute-experience, guests undergo a full-body exfoliation, followed by an organic shea butter hydration treatment, hot oil scalp treatment and full body massage. The "Royal Renewal" treatment utilizes kaolin clays and pumice for a detoxifying mask, a treatment once practice by the Pueblo people. After the mask is painted on the body, guests receive a head and neck massage, full-body application of a shea butter-infused oil blend, and 20-minute facial. Private yoga classes, led by in-house yogi Halli Bourne, will also be offered throughout the month.
Girl's Trip
Looking for a Galentine's getaway? Windflower—The Hill Country Spa, at Hyatt Regency Hill Country Resort in San Antonio will provide "Massages and Mimosas" during the week of Valentine's Day. Guests will receive 50% off a treatment for a second guest, as well as complimentary mimosas. And the mimosas love extends beyond the champagne glass; among the spa's signature services is a lemongrass mimosa scrub infused with mimosa plant, jasmine, and ylang ylang.
Commented spa director Joe Herman: "With our 'Massages and Mimosas' special, couples and friends can not only enjoy a rejuvenating spa treatment but also spend the day together enjoying our world-class facilities from our heated pool and whirlpools to our relaxing ranch-inspired back porch which overlooks the stunning Hill Country scenery."