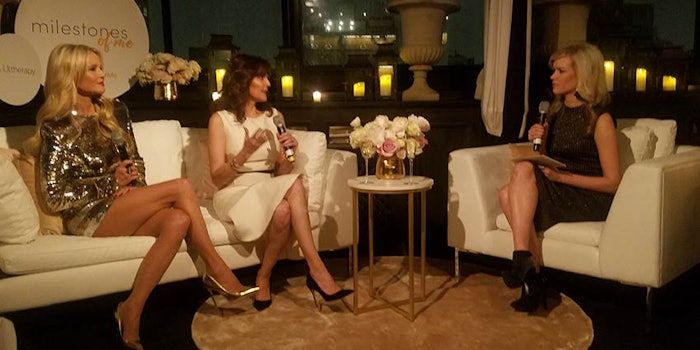 Merz has teamed up with supermodel Christie Brinkley—spokesperson for their Ultherapy non-invasive procedure—for "Milestones of Me," a campaign asking women to celebrate the moments that have made them who they are.
The campaign launched with a 65th birthday party for Brinkley at New York City's Gramercy Hotel, where the entrepreneur and mother of three discussed the defining moments in her life.  
"As I approach this milestone birthday, I look back on all that I've learned and the things that have become important to me, not only as a mother and friend, but also as a woman," said Christie Brinkley. "For me, it's not just about the big birthdays–it's the smaller, more personal moments, like when my garden blooms in the spring, that deserves celebrating. Ultherapy has become part of my beauty routine and it helps keep me looking as vibrant as I feel for all my milestones–big and small."
As part of the campaign, Brinkley is asking women to share their Ultherapy selfie and personal milestones on social media using the hashtag #MilestonesofMe.
Ultherapy is geared towards lifting and tightening the neck, chin and brow, and improving lines and wrinkles on the chest. It stimulates natural collagen and elastin, without downtime. Non-invasive procedures are becoming increasingly popular with consumers.
"Patients are no longer coming in for a consultation only before big events like a wedding or high school reunion," said Doris Day M.D., a board certified dermatologist specializing in laser, cosmetic and surgical dermatology. "More and more women and men in their 40s and 50s are excited about nonsurgical options to look their most beautiful every day and every year to come. This includes wanting options for not only their face, but also their neck, chin and décolletage to look great as well, so I talk to them about Ultherapy as a safe, non-invasive option. This campaign couldn't be more timely and relevant to what I'm hearing in my practice."