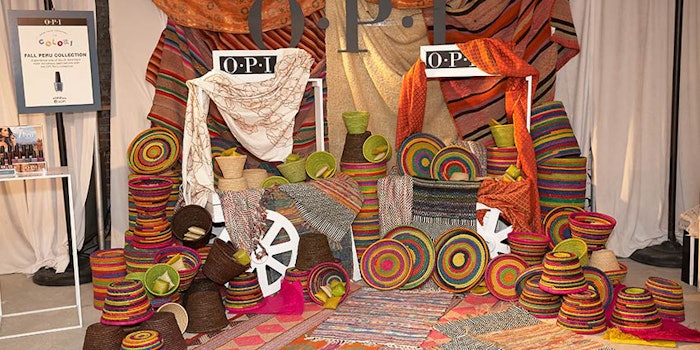 Famous for fun shade names like Vampsterdam and I'm Not Really a Waitress, it sometimes feels as though OPI was made for the hashtag era (even though the brand has been around for nearly 40 years).
In honor of the launch of several new collections, the brand decided to leverage that social media cache with its first ever pop-up shop, held in New York City. The space featured several selfie-worthy backdrops—each inspired by a launch—as well as services including manicure and hair and makeup bars.
Collections in the spotlight included:
Peru, the brand's fall/winter 2018 collection;
Metamorphosis, a collection of glittering transformers;
Infinite Shine Fan Favorites, classic shades in the infinite shine finish (for both consumers and professionals);
Gel Color Icons, some of the most popular colors, now in a gel formula (professional); and
Expanded color offerings in the Powder Perfection range, a fast-applying acrylic alternative (professional).
Along with snapping pictures of themselves in the scenic spaces—such as a Japanese rose garden, inspired by the shade of the same name, and a Peruvian street market honoring the fall collection—guests also had the opportunity to purchase product on-site through Amazon.
"The inspiration behind this event is, we're trading social currency for beauty products," said Rebecca Brown, director of influencer marketing & PR, North America and global. "So purchase a product, you post, and we give you a really cool swag bag depending on how much you purchase and post."
Guests were encouraged to share their snaps on social media with a host of relevant hashtags, including #MakeItIconic, #OPIGlitters and of course, #OPIPopUp.
Added Brown, "Our whole concept for this event is very digital-first; it's like a content creation pop-up shop, where people can create all the content they want … and get some nice beauty services at the same time."
Related: Nail Care Market Rebounds, Increased Demand in the Nail Enhancement Category