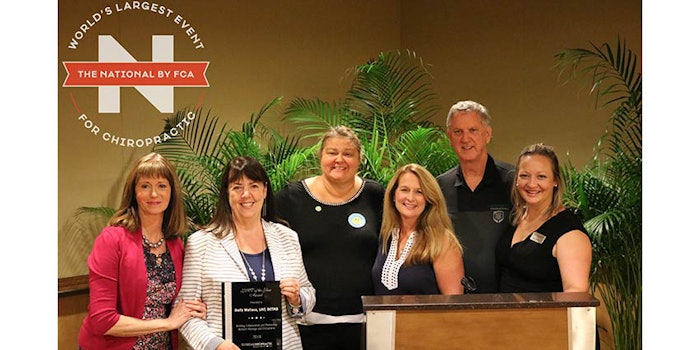 Massage therapist Dolly Wallace was honored with the Florida Chiropractic's Association (FCA) 2018 LMT of the Year award.
Presented at The National by FCA, held in Orlando, Fla., the award honors massage therapists who perform outstanding service to the massage and chiropractic professions.
Wallace has run her own massage therapy practice for 30 years, in addition to working with her husband at the Wallace Chiropractic Center. She has served as both the president and a board member of the American Massage Therapy Association, and campaigns for fair regulation of massage therapy both nationally and in her home state of Michigan.
She was instrumental in establishing professional massage therapy licensing in Michigan, and advocates for massage therapy as part of integrative care. Wallace received the AMTA's National Distinguished Service Award and National Outstanding Volunteer Group Chair Award in 2010 and 2006, respectively.
"I am delighted to extend my congratulations to Dolly, an admired leader in our profession and a friend," stated Lynda Solien-Wolfe, Performance Health, vice president, massage & spa. "She has made a huge impact across the massage and chiropractic professions through her ability to develop strong relationships and expand the understanding of the benefits of true collaboration."
"We are so appreciative of Dolly's support, not only as a leader in the AMTA, but as a regular attendee of The National," added Debbie Brown, CEO, FCA. "Her chiropractic physician husband maintains an FCA membership even while practicing in Michigan. They come to The National on a regular basis, enjoying the synergy between the massage and chiropractic professions. Dolly appreciates the FCA's recognition of the valuable role massage plays in effective chiropractic care and the FCA's efforts to build collaboration between the two professions. In her leadership role, she continually promotes the value of chiropractic-and-massage teamwork to the massage world. This award is a tangible way to thank Dolly for her efforts."