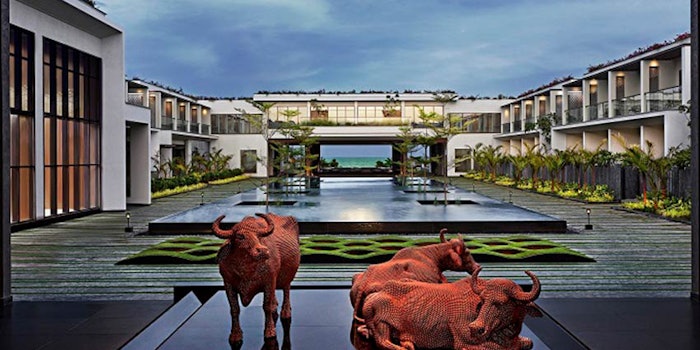 Marriott International has announced the opening of Sheraton Grand Chennai Resort & Spa in India.
The property spans 10 acres of land along the East Coast Road of Tamil Nadu, overlooking the Bay of Bengal. It includes 125 guest rooms, each with Sheraton's signature amenities and services, as well as two restaurants and a lounge bar; the signature Shine Spa for Sheraton; a Kids Club; a Recreational Club; and the Sheraton Fitness Studio.
The resort's architecture and design reflect the region, with rich wood accents, intricate tapestries and copper displayed throughout the property. The lobby—which was designed to replicate the South Indian Catamaran watercraft—features a copper installation of water buffaloes, which are symbolic to the city of Chennai.
"The opening of the Sheraton Grand Chennai Resort & Spa underlines our focus on enhancing and building the Marriott Resort portfolio within India," said Neeraj Govil, area vice president, South Asia, Marriott International. "We will continue to cater to our ever-expanding customer base with sophisticated hotels that offer spectacular architecture, culturally significant art, great public spaces, unique dining concepts and thoughtful amenities. Chennai as a high potential market is witnessing a positive influx of business and leisure travellers alike, thus making this launch perfectly timed to meet the growing hospitality demands of the city."
Added Shibil Malik, general manager, Sheraton Grand Chennai Resort & Spa: "The Sheraton Grand Chennai Resort & Spa is a stylish, modern hotel experience for guests, designed to provide the best in-house service and facilities for the business and leisure traveller. We are excited to offer our guests fresh concepts in service and food & beverage with personalized touches that aim to set new hospitality standards."