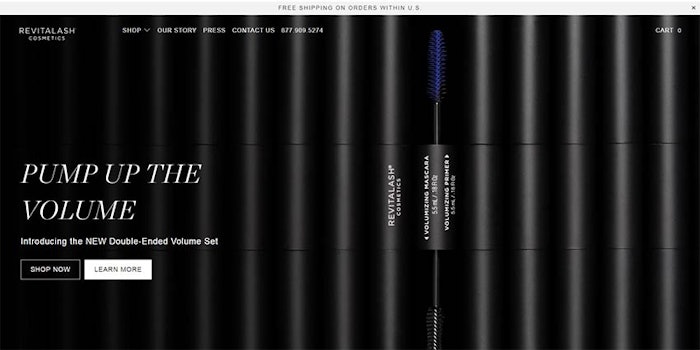 RevitaLash Cosmetics has unveiled its new website. 
Features include updated model and project imagery, new video content and a refreshed logo. Visitors have the opportunity to sign up for the company's newsletter to keep up with RevitaLash news and product launches. The FAQ section and mega-menu shop dropdowns are designed to help customers make more informed buying choices.
Guests have the option to pay for their purchases through methods including Google Pay, PayPal, Amazon Payments and Apple Pay. Additionally, the company partnered with e-commerce platform Shopify to streamline the checkout process.
The website also offers an in-depth look at the brand's history. RevitaLash was founded when Michael Brinkenhoff, MD, developed an eyelash conditioning formula to help his wife feel beautiful during her battle with breast cancer.
"We are thrilled to unveil this first phase of our new site, boasting more exciting features to engage and educate consumers," said Lori Jacobus, chief marketing officer. "This fresh look mirrors our revitalized vision for the brand moving forward. With our physician led line of expert-developed, luxury cosmetics, this new website is reflective of our role as a leader in the beauty industry."