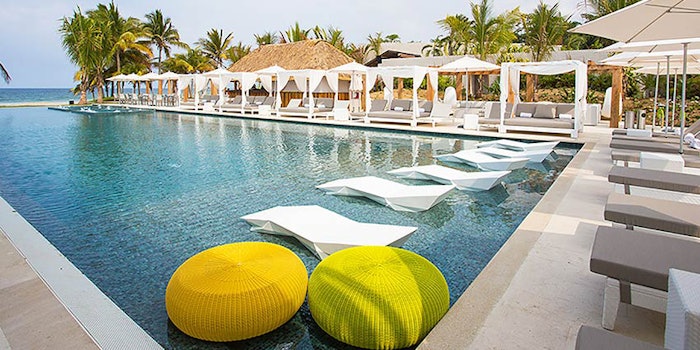 W Hotels Worldwide have lunched FUEL weekends by W Hotels, a series of weekend workout getaways guided by fitness experts around the world.
FUEL weekends feature a variety of workouts from multiple disciplines, including yoga, boxing and surfing. Classes at the inaugural weekend, which was held Memorial Day weekend 2018 at the W Punta de Mita, included strength training with THE WALL founder Jason Wimberly; boxing cardio with Ashley Guarrasi; and yoga with Tara Stiles of Strala Yoga.
The first FUEL weekend also included healthy, locally-sourced cuisine from Chef Juan Guizzo, and a welcome reception with healthy light bites and a two-hour open bar. Add-ons for the weekend included mezcal tastings, ziplining, on-site spa treatments and surf lessons.
The series is the latest in the W brands' fitness-related offerings—all 50+ hotels feature fitness classes and state-of-the-art gyms. The W Fort Lauderdale hosts beachside sunrise yoga, while the W Shanghai—The Bund teaches guests Tai Chi.
Additional fuel weekends are planned for the W Verbier and the W Dubai—The Palm later this year; more destinations are slated for 2018 and beyond
"W always does things differently, and a workout is no exception," said Anthony Ingham, W Hotels worldwide global brand leader. "FUEL weekends feature insider access to some of the best trainers in the world, coupled with the playfully luxe experience of W. We know wellness means more than just a good workout, and that's why classes are offered alongside plenty of opportunities to retox in style, for a trip unlike any other."