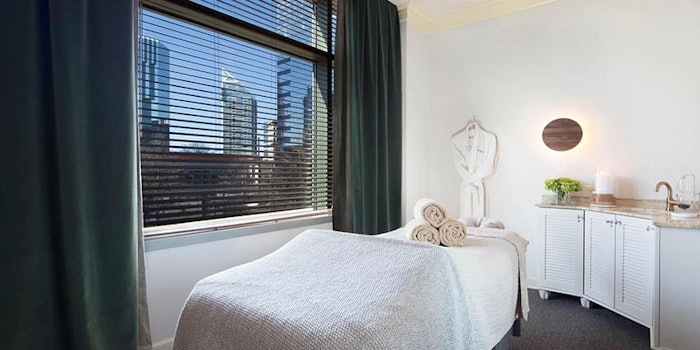 @jurliqueatlanta/ Facebook.com
Jurlique is making a return to its roots: The skin care brand will be opening a number of concept spas and services around the United States.
The move began with the Jurlique Spa at InterContinental Buckhead Atlanta, which opened in November 2017, and the re-launch of New York City's Jurlique Spa at Great Jones in January 2018. The company plans on opening more flagship spa locations towards the end of 2018.
Among the treatments offered at all locations are the Revitalizing Antioxidant Facial ($160+, 50 minutes) which includes plant-based antioxidants, a triple-phase Vitamin C treatment and an amethyst energizing facial massage.
The strategy can be attributed to consumer shopping behaviors; since customers are increasingly shopping online instead of in-store, the company is looking to provide the kind of impactful first-hand experience that inspires shoppers to add to their virtual cart.
"While foot traffic in a lot of retail destinations is down, the spa industry is growing in excess of 5% a year," said Louis Chabert, marketing and operations director, North America. "Spas offer the perfect environment for telling Jurlique's natural heritage. The spas give us the opportunity to show the industry what we are capable of. We're excited to properly tell our brand story and show consumers first-hand."
The complete list of signature facial and body treatments available at Jurlique Spa includes:
Revitalizing Antioxidant Facial (50 minutes)
Hydrating Rose Facial (80 minutes)
Ultimate Radiance Facial (50 minutes)
Anti-Stress Soothing Facial (50 minutes)
Nutri-Define Anti-Aging Facial (80 minutes)
Purely Detoxifying Facial (50 minutes)
Instant Radiance Facial (25 minutes)
Renewing Ritual (25 minutes)
Softening Rose Body Treatment (50 minutes)
Calming Lavender Mud Wrap (50 minutes)
Refreshing Citrus Body Exfoliation (50 minutes)
Purifying Back Treatment (50 minutes)