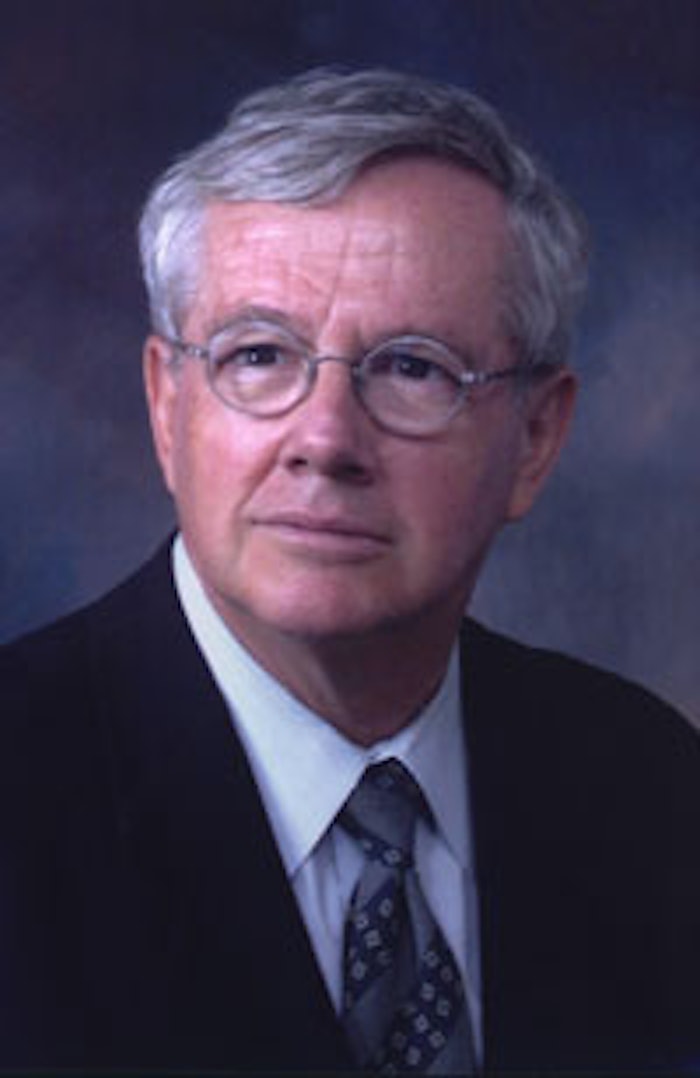 To share your memories and thoughts in rememberence of Pinnel, visit Skin Inc.'s Facebook page at www.facebook.com/skininc.
Sheldon Pinnell, MD, an internationally eminent scientist, dermatologist, leading scientist behind L'Oreal-owned SkinCeuticals, and J. Lamar Callaway professor emeritus of dermatology and chief emeritus of the division of dermatology at Duke University, passed away peacefully in Durham, NC, on Thursday, July 4, 2013. He was 76.
Pinnell's investigative research has changed the way the world uses topical antioxidants today. As one of the founding fathers of topical antioxidants, he was the first to patent a stable form of vitamin C proven through peer-reviewed research to effectively penetrate skin, delivering eight times the skin's natural antioxidant protection.
Before helping to shape the cosmeceutical industry, Pinnell led major advances in the understanding of skin biology and the parthenogenesis of skin diseases. Early in his career, he made seminal contributions to the understanding of Ehlers-Danlos Syndrome and the role of vitamin C in collagen biosynthesis. Pinnell has been globally recognized for his contributions to science and skin care, most recently receiving an honorary membership to the Society for Investigative Dermatology.
Over his lifetime, he also received numerous medical and scientific awards including the "Best Doctors in America, the international Who's Who in Medicine and Healthcare, Who's Who in Science and Engineering and Who's Who in America. Pinnell has published more than 200 scientific articles in peer-reviewed journals on dermatology topics such as photoaging, collagen synthesis, UV protection, topical vitamin C and other antioxidants. Pinnell also authored approximately 20 book chapters and holds10 patents.
"It is our greatest privilege to have been able to help Pinnell bring his discovery of topical antioxidants to life. Prior to the introduction of topical vitamin C in the early 1990s, skin care professionals were largely limited to sunscreens to protect against the deleterious effects of the sun. It was Pinnell who gave the medical community the confidence to transform the approach to at-home skincare. We are fortunate to have known Pinnell as a scientist, a family man and a dear friend. His life lessons and infectious spirit will remain with us forever," said SkinCeuticals co-founders Alden Pinnell and Russell Moon.
"We are honored to have had the chance to know and work with Pinnell over the years. It was his breakthrough research that propelled the use of topical antioxidants within the skin care industry. Today, topical antioxidants are widely recognized as an essential component for maintaining and protecting healthy skin. Most United States dermatologists recommend that patients incorporate an antioxidant into their daily skincare routine. Everything he has taught us, as well as his passion for discovery, will continue to live on daily through all of us here at SkinCeuticals. I personally have grown and learned an enormous amount from Pinnell, and he will be dearly missed," said Marc Toulemonde, SkinCeuticals global general manager.
"Pinnell's philosophy and dedication to advancing science in the cosmeceutical landscape is unlike any we have ever seen, and he remains an inspiration for us today. It is our esteemed privilege to have had the opportunity to learn from the 'Founding Father of Topical Antioxidants' and introduce a range of products that changed the way we care for our skin globally," said Brigitte Liberman, world wide president, L'Oreal Active Cosmetic Division.
A graduate of Duke University's Trinity College, Pinnell earned his medical degree at Yale University and trained at the University of Minnesota Hospital, the National Institutes of Health, Massachusetts General Hospital and Max Planck Institute for Biochemistry in West Germany. Pinnell earned his Bachelor of Arts degree in chemistry at Duke University, where he graduated with Phi Beta Kappa academic honors.
Pinnell returned to Duke University in 1973 as an associate professor and investigator for the Howard Hughes Medical Institute at the Department of Medicine. A visionary leader, Pinnell developed and implemented major strategic initiatives that facilitated the growth and prominence of Duke University's Division of Dermatology and culminated in the establishment of the nationally-recognized Department of Dermatology in 2009. He held the office of chief of dermatology for 15 years and retired in 2010 after 37 years of service. During his tenure, he trained over 100 residents, 22 research fellows, and left a legacy of 22 prominent dermatologists, including seven current department chairs, residency program directors and associate department and vice chairs. Pinnell also served as a diplomat of the American Board of Dermatology and a member of the American Academy of Dermatology.
"Pinnell set the highest standard in teaching and research, and his mentorship provided me with the tools necessary to pursue my professional goals. We have lost a true mentor and dear friend," said Tina Alster, MD, director and Washington Institute of Dermatologic Laser Surgery clinical professor.
"Pinnell had an energy and enthusiasm for life and a knowledge of dermatology that was second to none. He will be missed by his many colleagues and by dermatologists globally," said Jean Krutmann, MD, professor of dermatology and environmental medicine at the Heinrich-Heine-Universitat Dusseldorf.
Pinnell was accomplished in so many ways, but most particularly he would like to be remembered as a loving husband, father, grandfather and ardent Duke Blue Devil fan. Pinnell is survived by his wife, Doren Madey Pinnell, MD; three sons, Kevin, Alden and Tyson; and five grandchildren.
A small, private ceremony was held on Monday, July 8, in Duke University gardens. Later this year, a celebration of his life will be held at the Duke University Chapel, in conjunction with the dedication of the Pinnell Center for Investigative Dermatology. In lieu of flowers, contributions in Pinnell's honor may be made to Duke University (PO Box 90581, Durham, NC 27701). Contributions may be designated for the Pinnell Center for Investigative Dermatology or for Duke Athletics, the Sarah P Duke Memorial Gardens, and Nasher Museum of Art.