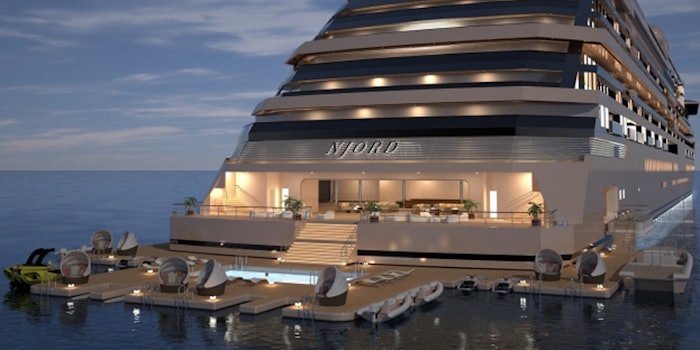 M/Y NJORD and Chenot have agreed to a partnership aboard the private residential community at sea, expected to set sail in 2024.
M/Y NJORD, an Ocean Residence Development, is a private yacht with a collection of 118 ocean residences which will offer Chenot's specialized services in health and wellness. This includes providing and developing medical spa programs, treatments, cosmetic products and food supplements that promote healthy living, wellness and successful aging.
The Chenot Center aboard the yacht is 930 square-meters of open-ended panoramic views located on Deck 10 as well as a medical center with a fully equipped and professionally staffed medical center located on Deck three. 
Residents will be able to embark on their wellness routine while travelling, devoting important time to their health with bespoke holistic, dietary and physical treatments complemented by natural therapies to detox, de-stress, re-energize, reset and re-balance both body and mind.
Chenot's treatments range from an anti-ageing regenerating treatment to lymphatic treatment to abdominal treatment and even an illuminating and nourishing facial treatment. 
Chenot is offered in locations including Montenegro, Greece, Switzerland, Italy, Azerbaijan, Russia, Morocco and Malaysia. 
George Gaitanos MSc and Ph.D., Chenot's chief operating and scientific officer explains: "Our wellbeing is a non-negotiable necessity to life and no longer optional, especially while travelling extensively and for a long time. This partnership will offer a transformational experience integrating health with wellbeing resulting in an extraordinary vitality to life."
Alain Gruber, COO of Ocean Residences Development, said, "There is clearly a growing demand for a private, bespoke yachting lifestyle where residents, their families and guests can travel in a safe and healthy environment. M/Y NJORD will be very appealing to those who share a sense of adventure, desire personal enrichment and life-changing experiences. The partnership with Chenot will give our residents the assurance of receiving treatments based on profound scientific research at every level,"
"We are delighted to be partnering with this outstanding brand as they share our philosophy and the highest standards of service. Our residents will benefit from their unrivalled expertise as industry leaders with over 50 years of experience in the medical spa, health and wellness field," said Gruber.