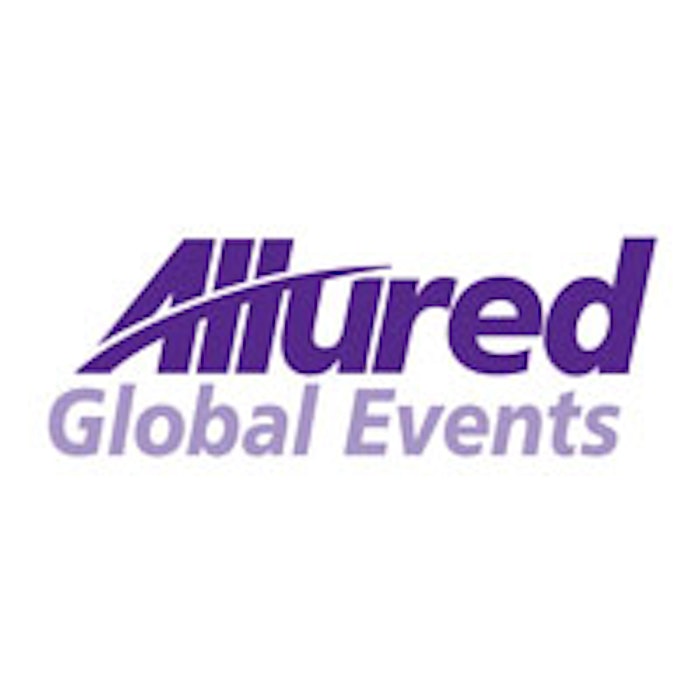 Allured Business Media, a global media company, has launched Allured Global Events as a stand-alone business designed to service organizations that run events and need this expertise.
According to Janet Ludwig, president of Allured Business Media, "We have seen significant growth in our tradeshows and conferences. We will continue to own and manage our existing events, while expanding with this new separate business. Our experienced events team is ready to serve associations and corporations within our markets."
Sandy Chapin will head up this business as vice president of Events. Chapin has successfully lead Allured Business Media's event business for the past nine years. According to Chapin, "I'm thrilled to leverage our expertise and provide event management consulting for associations that do not have event staff. We can provide a range of services from event strategy and design through event execution for both associations and our suppliers' customer user conferences."
Current events managed by Allured include the Face & Body Spa Conferences and Expos, for the spa and professional skin care industry; the World Perfumery Congress, for the fragrance industry; Flavorcon, for the flavor industry; and the C&T Summit. Additionally, Allured Global Events was hired by the New York Society of Cosmetic Chemists (NYSCC) to provide event management consulting for their 2014 event.
About Allured Global Events
A sister company of Allured Business Media, Allured Global Events offers full service event management. Services include strategic event consulting, event logistics, venue and vendor procurement, program content development, event sales and marketing, and creative event production, from inception through execution. We produce events that serve both the association and corporate markets which include corporate client meetings and events, association congresses, trade show and conferences. We have more than 25 years experience of delivering meetings and events.
About Allured Business Media
Allured Business Media's innovative product mix of magazines, trade shows, conferences, directories, books, websites and electronic media arms the cosmetic, spa, and flavor and fragrance industries with more than 80 years of knowledge and experience along with a wealth of information.
Fueled by creative, dedicated employees, Allured remains a leader in high quality editorial, cutting edge information, and company-wide responsive customer service. We embrace the industry challenges of tomorrow by constantly evolving in technology, product development and growth to suit the needs of our domestic and international customers.
Through our strong, expert network, both internal and external, combined with global market visibility and accessibility, we are committed to excellence.
For more information, please contact Sandy Chapin, Allured Global Events vice president, at 630-344-6065 or [email protected].