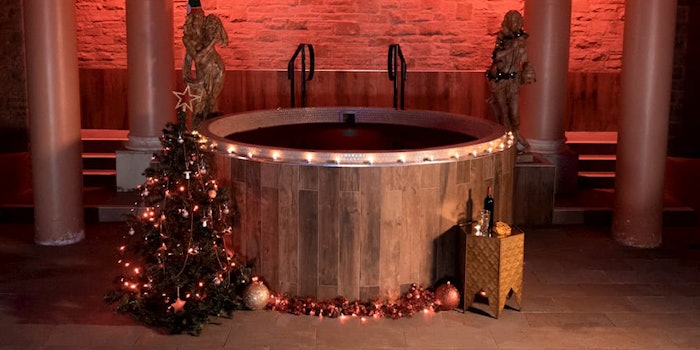 The Shirley Hall Bazaar Spa in Cheshire, United Kingdom, has announced its newest holiday amenity: a mulled wine spa soak, coming December 2020, per SpaSeekers.
Related: 6 Ideas to End the Year Strong at your Spa
The mulled wine soak contains orange, cinnamon, star anise and has a neutral PH. The soak is ideal for reducing inflammation and opening pores to release toxins. 
A soak in a hot tub is said to "help fight viruses and fungi, while also improving cardiac health and increasing blood flow," while they say the polyphenols in grapes and citrus fruits also help improve circulation.
Along with the everyday spa treatment packages, other festive treatments include a brown sugar, cinnamon and orange body scrub, as well as a frankincense massage. 
The brown sugar, cinnamon and orange body scrub utilizes the exfoliating and anti-bacterial properties of brown sugar, combined with the antifungal and antioxidant cinnamon, the sugar and spice body scrub brings blood flow back to the skin. 
The 45-minute frankicense massage promotes the curative and anxiety-reducing benefits of their rankincense and grapeseed massage oil.
The Mulled Wine Spa Day at Shrigley Hall retails from £60 per person.