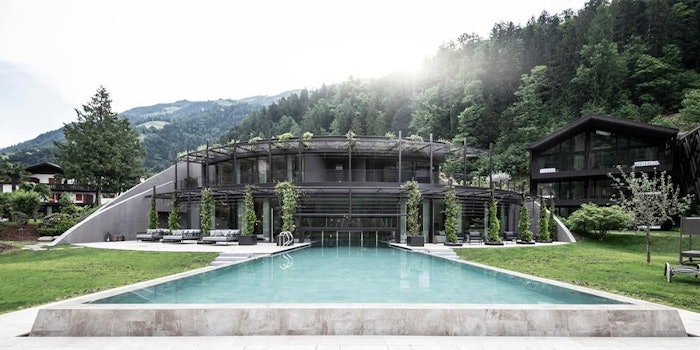 Apfelhotel Torgglerhof hotel, a wellness resort in Saltaus, Italy, has received a two-floor, 6,135-square-foot wellness center with 18 suites, bringing the resort's total rooms up to 44. The facility was created to complement the resort's existing spa with an apple-shaped bio-sauna inspired by the local apple orchards. 
Related: Fountain Spa Adds Fitness Center
The Network of Architecture (noa) led the construction and designed the hotel's new wellness center, called Water Well House, to feature two treatment rooms and a northside facade that blends the natural green slope to conceal the building. 
"The design for the wellness area is based on the concept of it being a 'Brunnenhaus,' which is a spring or well house, due to the mountain stream that flows through the hotel property," said Joanna Lehnis, noa interior designer in an interview with CLAD news. 
The majority of the spa is hidden from sight and covered with a layer of earth and plants, as it's designed to naturally blend into the landscape. Noa also created an adults-only upper floor that features a Finnish sauna, sauna lounge, relaxation room and steam bath, as well as an open-air terrace where guests can refresh themselves with an outdoor shower. 
The spa provides treatments and a range of therapies including body wraps, massages, scrubs, facials and nail services. There is a pool that links the spa to the outdoors, stretching outside through the overgrown green facade and is partially framed with Lucerne metamorphic gneiss rock.